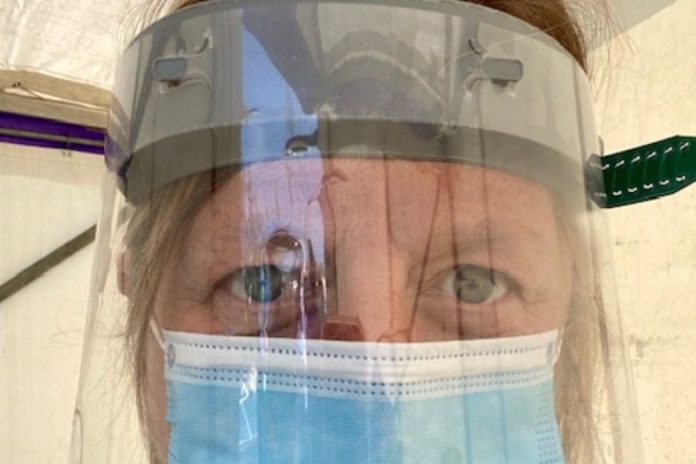 Back in March, when the UK experienced a significant rise in coronavirus cases, testing for the virus ramped up across the country and the NHS needed support from volunteers. Kate Kyne, UK and Ireland occupational health and wellbeing manager for Wavin, approached Great Western Hospital in Swindon and joined their team of testers. Here she talks about her experience on the NHS frontline.
WHAT MADE YOU WANT TO HELP OUT?
When we entered lockdown, the construction industry almost came to a complete halt, putting projects on hold across the UK. For Wavin, this meant making use of the government's furlough scheme for some of our production and distribution staff, although we made sure we were able to support projects that still required our products and services. A number of members of the occupational health team which I'm part of were also put on furlough but I continued to work full time.
Wavin made it very clear that they would be in full support of any employees who wished to go and volunteer during the pandemic even if they were still working full time. I decided to approach Great Western Hospital in Swindon to see if there was anything I could do to help out. I knew the hospital well, as up until 2014 I had worked as an occupational health manager there.
WHAT DID YOU DO?
Not long after signing up to volunteer, I joined the hospital's team of COVID-19 testers. Our first task, after being provided with full PPE, was to carry out swab tests on staff who were showing symptoms.
After this, I helped on the drive-through testing site, where we were carrying out up to 100 tests a day. I must admit, it was quite tough testing members of staff whose results came back positive, as all they wanted to do was to continue working and doing their bit to help.
WHAT WAS THE EXPERIENCE LIKE?
The whole experience for me was a complete eye opener and I felt very privileged to be working alongside some incredible NHS staff who were tirelessly working through these trying times. Even though I left the NHS six years ago, I felt part of the team straightaway and we were able to have a laugh at the same time.
Even though I was geared up in uncomfortable full PPE and spending my days outside in the heat, it was really rewarding and just hearing the words "thank you" showed me how grateful the general public really are for the NHS.
HOW DID YOU BALANCE THIS WITH YOUR FULL-TIME JOB?
I had my manager's full support throughout. My initial plan was to help out at the hospital three to four days a week. As our factory employees began returning to work, they needed my support too, especially after such a long period of time away from work. I then started dedicating my weekends to help out at the hospital while concentrating on my day job throughout the week.
OVERALL, WHAT DID YOU LEARN FROM THE EXPERIENCE?
The whole experience taught me just how important PPE is when it comes to protecting against COVID-19. I had my antibody blood test which came back negative, which really does show the effectiveness of PPE as I was constantly coming into contact with symptomatic patients. However, I would definitely go back and do it all again in a heartbeat. Once a nurse, always a nurse.