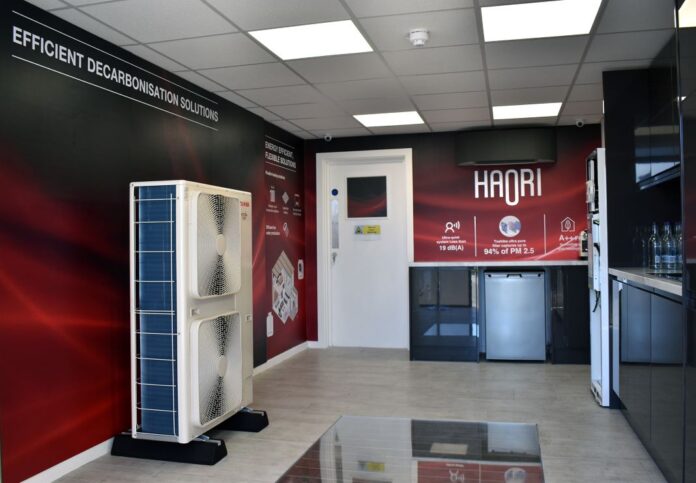 Toshiba Carrier UK Ltd (TCUK) has rolled out the latest generation of its high-performance ESTIA air-to-water heat pumps operating on lower global warming potential refrigerant R-32. Toshiba Carrier UK Ltd is a joint venture between Toshiba Carrier Corporation and Carrier, which is part of Carrier Global Corporation, the leading global provider of healthy, safe, sustainable and intelligent building and cold chain solutions.
ESTIA, operating with R-32 refrigerant, provides highly efficient space heating and domestic hot water for year-round comfort in homes and small businesses. Designed to meet increasing demand for a lower-carbon alternative to traditional heating technologies, ESTIA units harness ambient thermal energy from outdoor air, reducing energy bills compared to some other types of units. The heat pumps support Carrier's 2030 Environmental, Social & Governance (ESG) Goals of reducing customer's carbon footprint by more than 1 gigaton.
Four models are available in the ESTIA range, spanning capacities from 4 to 11kW, with larger capacities available soon, all with reversible operation to provide cooling as well as heating, if required.
At the heart of ESTIA is Toshiba's award-winning twin rotary compressor, which contributes to the system's outstanding energy efficiency rating of A+++. The pioneering compressor enables the heat pump to continue supplying hot water to the heating network even during exceptionally cold weather, delivering water at 62oC when outdoor temperatures fall to -25oC. At the other end of the temperature scale, ESTIA can continue producing DHW at exceptionally high outdoor temperatures (43oC) to deliver maximum running cost savings.
"With its top A+++ efficiency rating and ability to continue operating in low ambient temperatures, ESTIA provides a superb solution for homeowners or small businesses looking to replace less efficient units," said David McSherry, Head of Sales, Toshiba Carrier UK. "For installers, ESTIA is quick and easy to install on site, and Toshiba's renowned reliability means a long working life, backed by our excellent warranty."