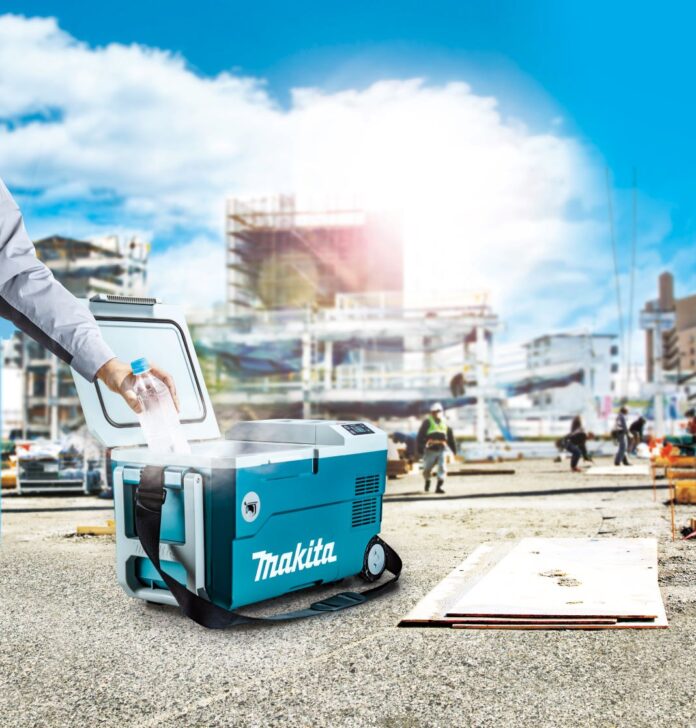 Makita UK has expanded its powerful XGT 40VMax range of machines to offer professional users even more high-power products to aid their efficiency and productivity on site.
The new LS003G XGT 40VMax 305mm Brushless Slide Compound Mitre Saw has been designed for high precision and consistent smooth cutting. It has an LED lamp that casts a helpful shadow of the saw blade onto the workpiece, acting as an accurate cutting line. The LS003G delivers an impressive no-load speed of up to 3,600rpm and has a maximum mitre range of 60° to 60° (L-R) and bevel range of 48° to 48° (L-R).
The AS001G 40VMax Brushless Dust Blower is an incredibly versatile machine and can be used across a range of tasks including tool maintenance and cleaning, inflating and deflating inner tubes, blowing dust away from equipment and cleaning air conditioner filters thanks to its blower and vacuum modes. With four air volume options to choose from and one touch nozzle replacement, it is easy to adjust the tool to suit the task in hand.
With Makita's powerful XGT 40VMax technology at their core, the VC001GL and VC003GL dust extractors deliver impressive output that is equivalent to corded alternatives. Both machines can house two XGT 40VMax batteries so that when the first battery runs out of charge, the second one automatically kicks in to keep the machine running for longer. To improve productivity further, the VC001GL and VC003GL have large tank capacities of 8-litres and 15-litres respectively, preventing the need to regularly down tools to empty the dust bag.
The CW001G XGT 40VMax Cooler/Warmer Box is the perfect jobsite companion. This 20litre cooler and warmer box has seven temperature settings ranging from -18oC up to 60oC, to either cool or warm food and drink items, for year-round usability. It also features a bottle opener and USB output port for charging mobile devices. For ease of transportation, the CW001G has large 100mm caster wheels and a carry handle with grips for added comfort.