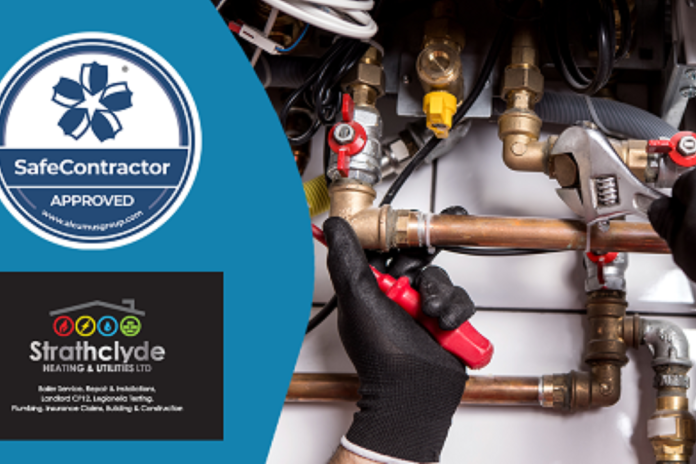 Strathclyde Heating & Utilities has joined SafeContractor to enhance the company's reputation for health and safety excellence by gaining UK-leading accreditation.
"We offer a high-quality contractor service and strive to deliver 100% customer satisfaction on every job we undertake. We work closely with our customers to ensure that our fully qualified team deliver competitively priced and professional services to every project," commented Andrew Heffernan, managing director at Strathclyde Heating & Utilities.
"As a company that prides itself on customer satisfaction and the quality of our workmanship, independent assessment and third-party accreditations are very important to us. Joining SafeContractor has enabled us to demonstrate a uniform standard of health and safety compliance and excellent standards across our business to clients now, and as we continue to grow. This has enhanced our ability to win new contracts with clients who want to work with compliant contractors."
SafeContractor, the UK's leading health and safety accreditation, verifies an organisation's health and safety compliance and connects contractors to leading organisations through an online portal. This showcases their profile to hundreds of companies that only work with 33,000 SafeContractor members, saves time and money when bidding on new tenders and gives them the peace of mind that their health and safety practices are complaint with the law.
Gemma Archibald, managing director of Alcumus SafeContractor, said: "No-one goes to work to get injured. Major organisations simply cannot afford to run the risk of employing contractors who are not able to prove that they have sound health and safety policies in place.
"SafeContractor plays a vital role in supporting our clients in meeting their compliance needs, whilst working with their contractors as they progress through the accreditation process. During the current economic impact of COVID-19 it's more important than ever that contractors enhance their reputation and win work by continuing to demonstrate their commitment to delivering the highest standards of health and safety compliance."