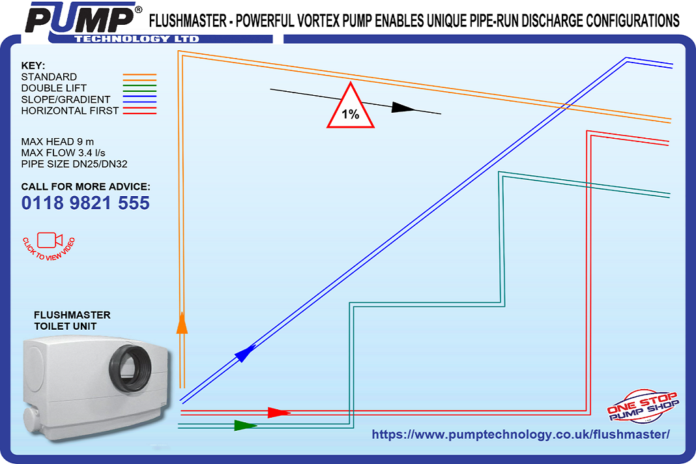 Pump Technology has introduced the FlushMaster toilet pump.
According to a statement, the FlushMaster makes it possible to run the discharge pipe from a toilet pump system almost immediately vertical.
It allows the installer to position the toilet were the client wants it. The discharge pipe can be run almost as wished to suit the building layout. For example, it can be run horizontally, a double lift or pump up a slope.
The FlushMaster is suitable for WC, Wash Hand Basin and Shower, it can be installed directly behind the toilet or within a panelled wall.
Pump Technology is also encouraging people to collect extra benefits by becoming a member of the FlushMaster Club.
To become a FlushMaster Club Member, installers need to call the team at Pump Technology to discuss their awkward site layout and then purchase a FlushMaster.
According to a statement, members benefit from a variety of product offers. Benefits include not only on the FlushMaster, but also on products such as the Plancofix Plus, a shower pump that can be installed flush with the tiles in a walk-in shower room.