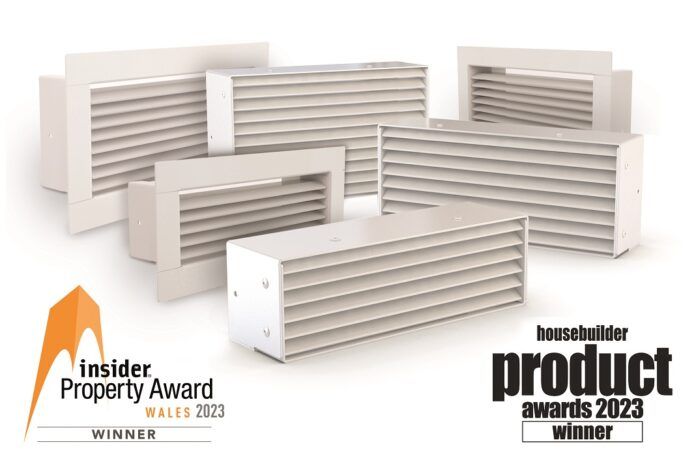 Following its success at 2022's London Construction Awards, the Solis Air Brick from Domus Ventilation has added a further two accolades to its collection having recently won the Best External Product at the Housebuilder Product Awards and Innovation of the Year at the Wales Property Awards.
The Solis Air Brick may be a seemingly simple product, but its ability to provide a cost-effective means of compliance with the revised Building Regulations Fire Safety Approved Document B has made it an extremely popular one amongst customers and award schemes.
Prior to the Building Regulations revisions, plastic was the standard material when it came to air bricks used as part of a domestic ventilation system. With an increased emphasis on the fire integrity of buildings, Building Regulations Fire Safety Approved Document B was reviewed and changes made relating to the combustibility of materials used in external walls to reduce the risk of fire spread over the wall. Now, ductwork penetrating through an external cavity, including termination, must be non-combustible when installed above 18m in England and 11m in Scotland.
Made from 1.5mm galvanized steel (fire class A1) non-combustible material, the Solis Air Brick was one of the first to market that was able to meet these more stringent requirements and ensure compliance.
The Domus Ventilation Solis Air Brick comes in three sizes: 204×60 single metal air brick, and 220×90 and 220×126 double metal air bricks. Bezelled versions, for use with exterior cladding instead of brickwork, have now also been added to the range.
Domus Ventilation Solis Air Bricks are suitable for use with all external wall types and are complimented by a wide range of stylish architectural grilles in a choice of colours. They are fully compatible with Domus rigid ducting ranges and Domus Thermal duct insulation, a patented system that significantly improves the thermal insulation of round and rectangular ventilation ducting, thus reducing heat loss and preventing the formation of condensation.
The Solis Air Brick is the latest addition to Domus Ventilation's Building Regulations compliant ducting fire protection products. The company offers a range of Fire Sleeves and Fire Collars that have been tested to BSEN 1366-3:2009 and classified to EN13501-2 which prevent the spread of fire where ventilation ducting penetrates fire compartment walls.
Domus Ventilation has a well-deserved reputation for quality, supported by excellent technical support, from a market leading manufacturer and designer. It is well placed to offer immediate, practical solutions to Building Regulations Parts F & L. For further information on Domus Ventilation, please contact vent.info@domusventilation.co.uk or visit domusventilation.co.uk