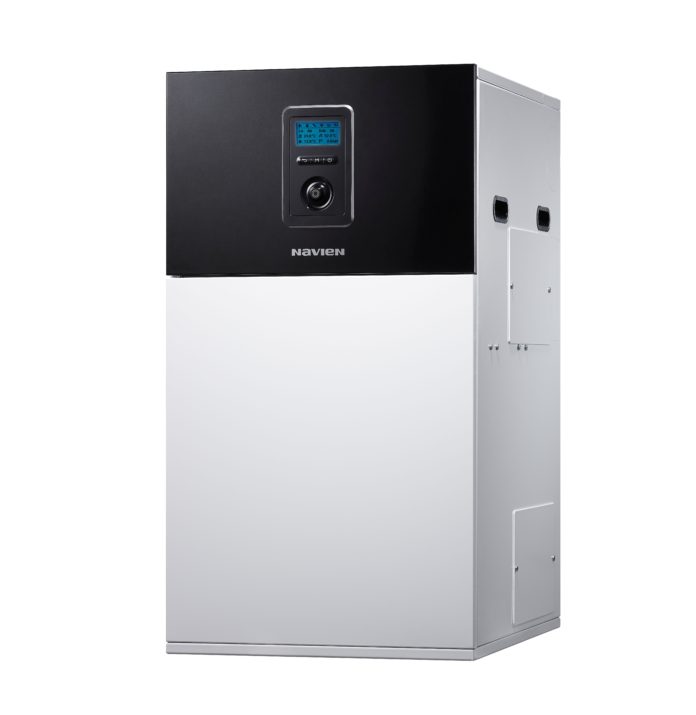 Navien remains the world's number one manufacturer of oil boilers, producing and selling over 200,000 units per year around the globe. The company's LCB700 range continues to lead the way in terms of superior efficiencies up to 104%, making it the only domestic oil boiler capable of achieving an ErP A+ energy rating.
Available as either a regular, system or combi boiler, in both internal and external models, the LCB700 not only boasts Navien's revolutionary blue flame technology, it is also lightweight (with lift weights from only 58kg), easy to handle and optimised for simple, fast and cost-effective installation.
All boilers are SEDBUK 'A' rated and utilise a stainless steel heat exchanger resistant to corrosion and erosion, ensuring an extended lifespan. Navien's pump system allows for continuous optimisation of heating and hot water output, while the oil boilers use the same 60/100mm plastic flues as their NCB gas counterparts – with extended venting possible up to a class-leading 20 metres, providing a wealth of flexible installation options. Each oil boiler is also "OpenTherm" ready, allowing for instant access to the latest heating control technology.
INTELLIGENT DESIGN
Both the interior and exterior models boast an extensive range of pioneering design features, including a full text-driven, smart control panel; this adds aesthetic appeal, while being simple to program and use. This is supplemented by a built-in 'Intelligent Mode' – a self-learning function that monitors DHW usage, ensuring there is always ample hot water available for an end user's daily routine.
In addition, the full text display makes it easy to view useful information on LPM (litres per minute), as well as supply/return water temperatures, while self-diagnosis and error feedback offers quick troubleshooting instructions. The display will even inform a Navien service engineer about how efficiently the respective unit is performing.
FULL HEATING CONTROL
Using the LCB700 Blue Flame boiler in conjunction with Navien's Smart Plus controllers further enhances a heating system's effectiveness and efficiency, raising it to ErP A+. Not only do the controls monitor oil consumption, they also regulate the heating in response to changes in the outside temperature, by monitoring the forecast on OpenWeatherMap. Plus, connecting the oil boiler to a smartphone enables full geofencing capabilities, turning the heating system on or off depending on an occupant's distance to their home.
Commenting on the industry-leading blue flame oil boiler range, Jason Davies, National Business Manager at Navien, said: "The LCB700 is truly leading the way towards a cleaner and more sustainable future. With blue flame technology set to replace yellow flame across the board, Navien remains ahead of the crowd, offering superior levels of efficiency and reliability from an economical, low emission and futureproof oil boiler."
For more information about the wide range of high efficiency boilers available from Navien, visit www.navienuk.com.