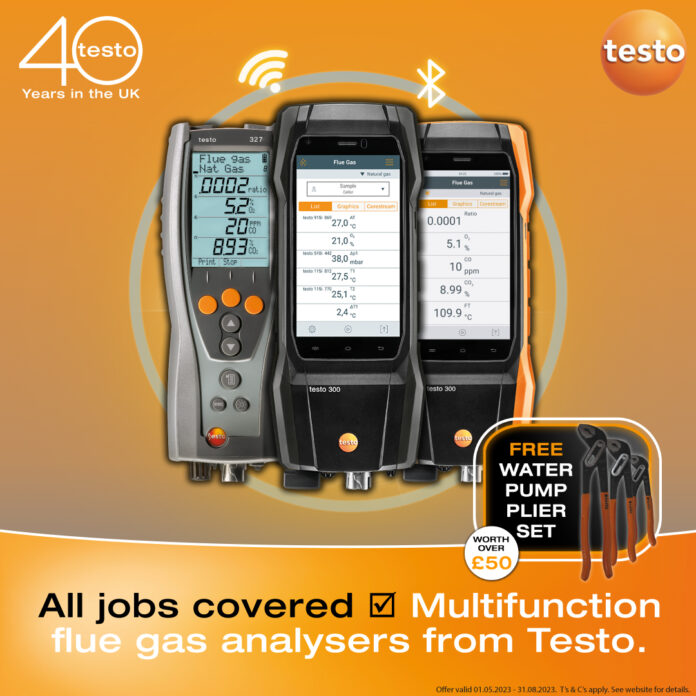 If you're looking for a new flue gas analyser, now is the perfect time.
Testo have just launched their new Summer special offers. For a limited time only, all testo 327 and testo 300 flue gas analyser kits will come with a free set of three adjustable water pump pliers (7 inch, 10 inch, 12 inch).
A comfortable rubber grip, long handles and ultra-strong hardened steel make this set of pliers the perfect companion for your day-to-day tasks.
Unsure which analyser is best suited for you? Below is a short breakdown of both eligible models.
Why choose testo 327?
Testo's 327 is the best value multifunction flue gas analyser on the market, offering premium quality at affordable prices. Robust & reliable, the testo 327 is the perfect companion for any heating engineer.
Robust & reliable
Best value flue gas analyser on the market
Easy menu navigation
Measures O₂ & CO, will calculate ratio, CO₂, and more
Hydrogen compatible (20%)
Testo IR Printer (advanced kits)
Why choose testo 300?
The testo 300 is wireless, efficient and offers smart functionality. Now with connection of up to 4 testo Smart Probes, a large 5" HD display with smart touch operation and option to send customer reports wirelessly, it couldn't be easier.
Large 5" HD colour touchscreen display
Email/Bluetooth customer reports
Connect up to 4 testo smart probes via USB Dongle
Connect up to 4 smart probes via USB Dongle
Hydrogen compatible (20%)
New Smart domestic & commercial kits available
Installing and servicing heat pumps?
This special offer is also available across our range of digital manifolds for heat pump servicing and installation. Testo digital manifolds offer easy operation and fast measurement, are compact, reliable and robust (IP54), with wireless measurement for uncomplicated documentation. Get your FREE water pump pliers when you purchase any testo 550i, testo 550s, testo 557s and All-NEW testo 570s digital manifold, featuring smart error analysis, logging functionality for long-term measurements and rechargeable battery.
The offers are available through authorised Testo distributors only, until 31 August.
Find out more: https://www.testo.com/en-UK/free-pliers