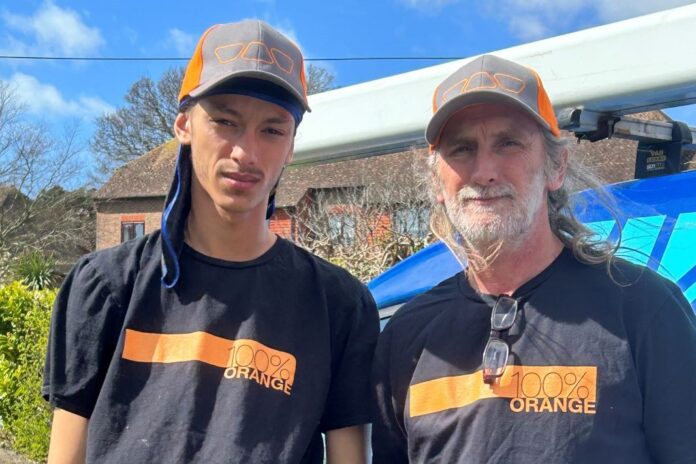 Adam McEwan has been installing bathrooms and wet rooms for over 20 years, but it wasn't until 2016 that he turned to Schlüter-Systems – and he hasn't looked back since.
The owner of Sussex Wetrooms in Fairlight near Hastings, Adam had previously sourced products from various rival manufacturers. But these days he estimates at least half his time is spent ripping out projects completed by other installers; and specifying Schlüter instead to rectify issues that have arisen.
"Six of the eight projects we've rescued recently were under a year old," he reveals. "The DIY wet room kits other installers use give problems and manufacturers blame each other. The problem is that the sector is unregulated. More than half the industry is still not working to the British Standard for wall and floor tiling, BS 5385-1. The training is there so not having the knowledge is plain ignorance."
Sussex Wetrooms handles around 16 projects a year and only specifies Schlüter's comprehensive range of trims, waterproofing, underfloor heating and drainage systems.
Ideally, Adam would have liked a showroom, but business is ticking over nicely, based 75% on recommendation and 25% on its website: "We do 100% private residential projects and field four times more enquiries than we can ever deal with," he says. "No matter how big or small the installation, we will always specify a Schlüter wet room or bathroom. It's a system, and if you're trained and know how to put that system together there's nothing missing, there's no weak link.
"The consistent comment we get from customers when we're ripping out a failed wet room is that the previous installer didn't do what we do. When they see the quality of the Schlüter product, and the amount of time that goes into the preparation, they're amazed."
Adam works with his 19-year-old son as a two-man team and was introduced to Schlüter by Kent retailer, Stuart Lilley – owner of Lilley Tile and Stone in Herne Bay: "What that man doesn't know about Schlüter isn't worth knowing," he laughs. "I call him my Schlüter Yoda. Our installations are all quite bespoke and fit the individual needs of the customer. If I have a technical problem, Stuart is my man on the ground, with support always available from Michael, the local sales representative."
When Adam first became interested in Schlüter, Stuart was recommended to him as a stockist. Stuart then endorsed the product to such an extent that Adam quickly became keen to get on board. He says the support he received during the first few installs rapidly increased his trust and confidence in the brand.
"Stuart also got me trained up very quickly," Adam adds. "I've never had such a good experience with local reps. Training at Schlüter's base in Coalville, Leicestershire is free for installers and participating retailers will get a group together to learn more about their products. The local area reps also give plenty of help and advice. They couldn't do any more. It's all free and you take away as much as you want and get out what you put in."
Key benefits
One of Schlüter's many advantages, he adds, is its unrivalled product portfolio: "You can give customers options on things they didn't even realise were possible," he says. "Schlüter offers more options than competing brands and that was one of the biggest draws for me. I don't give customers a choice. We work to a minimum specification."
What also attracted Adam to Schlüter was the versality of the product: "We've even created shaped seating in the past," he says. "They do a product that actually flexes. And we've done curved walls whereas, historically, you would've been trying to manufacture that."
"Schlüter also has more low height floor build options than most on the market, and there's such a huge range of options and drain styles. It was one of the first companies to create a single pitch to drain – the KERDI-SHOWER-LTS range. I haven't seen anything else on the market like it. You're not making complex envelope cuts in the floor to create your pitch; the tile scheme remains the same. It's a really attractive selling point."
"The company also has a brochure for installers entitled 'Beautiful Bathrooms with Schlüter-Systems'. The brochure helps me walk through the options available, from drain types and finishes, through shelving and niches and specialist lighting selecting the clients' choices in a simple check sheet.  When I'm back in the office I can then easily refer to this when compiling a quote."
Adam has also been very impressed with how clean the product is to work with. "Cutting and trimming during a normal fit can often leave a horrendous mess," he says. "But the Schlüter-KERDI-BOARD product features extruded polystyrene (XPS) with a waterproof, cement-free fleece so it cuts clean with a Stanley knife and is easy to handle."
Aimed primarily at the premium end of the market, Adam admits the product might not be the best option for those on a tight budget, but says its multiple benefits far outweigh any cost concerns.
"I don't see it as expensive," he insists. "If you've got a good relationship with your trade supplier, you can negotiate your product discount and work at a correct trade price to give you a reasonable margin."
The Sussex Wetrooms website also features Adam's training blogs. "It's for consumer confidence and for other installers to use as a guide," he says. "It will also help me with my Google SEO."
Asked if any specific projects stand out for him since he began installing Schlüter, Adam smiles: "Every project we do is simplified by using Schlüter," he says. "I remember one steam room installation where the support I received from the sales reps and from the Schlüter technical team was second to none. They generated a really detailed specification for me.
"The only problem was that the client had watched far too many YouTube videos showing how it's done in America. Their building regs couldn't be further removed! He told me I was doing it wrong, but I told him I was working to Schlüter specifications. Eventually, the technical team offered further support to my client to help him understand the different regulations."
Adam concludes with an assessment of exactly what makes Schlüter's products win out over competing brands: "The company's founder, Werner Schlüter, says 'our products cannot be sold, they must be understood.' That statement is 100% true. I sit down with my customers and explain why we're using the system and it gives us a great conversion rate. More than 90% of the people who request a survey make an order. People accept that if you want quality you have to pay for it.
"The feedback we get most from our customers is that they couldn't have imagined the finish achieved with Schlüter. Every single one says we've exceeded their expectations."