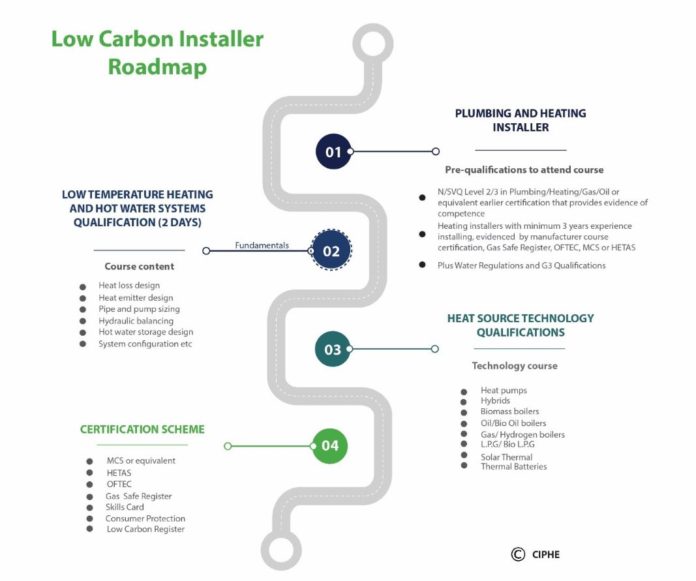 The Chartered Institute of Plumbing and Heating Engineering (CIPHE) Renewables and Low Carbon Technical Working Group has urged installers and industry leaders to cast their views on a new qualification.
The new 'Low Temperature Heating and Hot Water Systems in Dwellings' course is being developed and led by the CIPHE and leading industry associates, as part of work with government on its future of heat policies. The overall aim is to produce a course that will help to educate and increase the number of low carbon heating engineers in the UK, it said.
Paul Harmer, CIPHE technical consultant and chairman of The Renewables and Low Carbon Working Group, said: "As the UK transitions to decarbonising all homes and buildings by 2050, the increase in low carbon technologies, such as heat pumps, will require a robust training framework to futureproof installers' skills.
"To support this journey to a greener economy, the group has so far created the core competencies required for a Low Temperature Heating and Hot Water Systems in Dwellings course, and we are now carrying out a wider consultation to further seek opinion from installers and industry."
Professional plumbing and heating engineers can have their say up until 31 June by completing the survey. Following the consultation, the group will be continuing to map out and design a new innovative set of digital training material and tools to assist the installer of the future.
Manufacturer Vaillant welcomed the publication of both the CIPHE's (Chartered Institute of Heating and Plumbing Engineering) and HPA's (Heat Pump Association) consultations on training for low-temperature heating systems and heat pumps.
Mark Wilkins, head of training and external affairs at Vaillant, added: "Currently, there are not enough qualified engineers to design and install the amount of low-carbon, low-temperature heating systems needed to implement the expected increase in these technologies in forthcoming years. The HPA has estimated that a total of 69,500 installers would be needed by 2035 to deploy the amount of installations necessary in order for the UK to stay on track and achieve net-zero by 2050.
"As well as growing the number of qualified installers, we must ensure that those undertaking the work have the confidence and the right skills to build a reputable heat pump market.
"This initial demand will be serviced by professionals that are currently installing conventional heating technologies. The gas installers of today will already possess most of the competencies required for low carbon heating installation, but the industry needs to support them with taking their knowledge to the next level.
"We, along with other manufacturers, offer training to upskill installers about heat pumps and 'green' solutions. But these alone, are not enough. Engineers need a wide range of up-to-date skills, knowledge and competencies that reflect the latest technologies and standards to help them to design and install quality low-carbon heating systems, such as heat pumps, for their customers.
"The availability of modern, regulated and relevant training built on a robust qualification criteria and training framework will go a long way to address this skills gap. That's why we are fully behind both of these initiatives and would urge installers to have their say and so that they can shape future training to meet their needs."
To respond to CIPHE's consultation, visit here. Details of the HPA's consultation can be found here