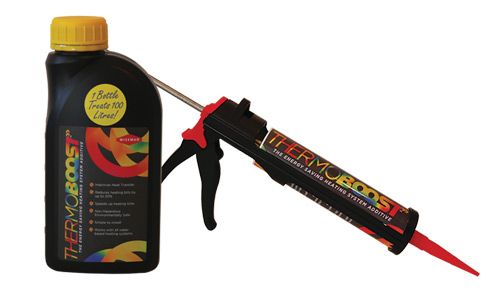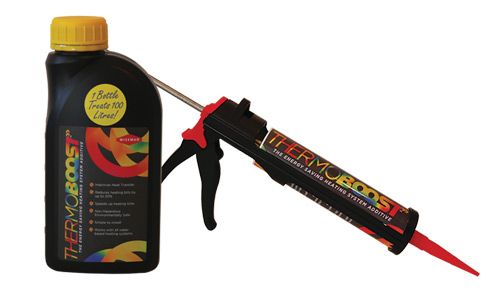 Wiseman Industries Ltd has launched Thermoboost, a super efficient additive for heating systems, which improves the efficiency of wet water heating systems, resulting in a reduction of up to 20% of heating costs.
Following seven years of intensive development, Wiseman Industries Ltd, have created a revolutionary heat transfer product. The first of its kind, it can be easily, efficiently and cost effectively added to all wet water heating systems. It can be installed directly into a pressurized system using the injector cartridge TB275 or added into a system from a convenient 500ml bottle TB500. A one litre bottle of Thermoboost will generate efficiencies in 100 litres of water, your average household of ten radiators.
Thermoboost advanced formula works in three key ways to improve the efficiency of a heating system:
It alters the consistency of water to speed up heating and prolong cooling
It's unique formula coats the system, improving flow, removing air bubbles and maximizing the heat conduction surfaces in a heating system
Lubricates the system, thereby improving performance.
Harvey Wiseman, managing director at Wiseman Industries Ltd, said: "The industry has been crying out for something like Thermoboost that simply and quickly offers as energy performance upgrade. With over 95% of UK households using water radiant heating systems, there is a huge need to make these more energy efficient, while reducing cost. In an era of fluctuating energy prices, any cost advantage gained through a clean and environmentally friendly product creates a win win solution for consumers. "