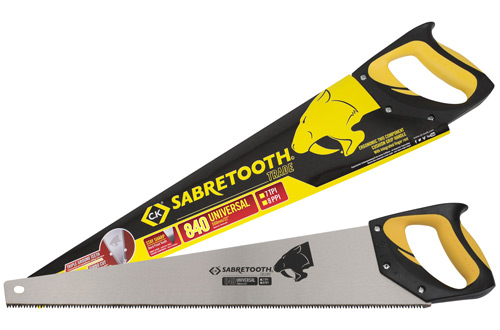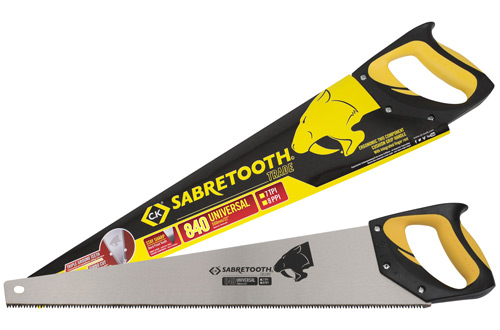 Biting back at the competition, C.K tools has extended its popular range of handsaws with the introduction of the C.K Sabretooth Trade Saw, which in independent testing has proven to outperform other leading brands in terms of cutting speed.
Set to be a roaring success, the reasonably priced C.K Sabretooth Trade Saw offers an impressive combination of speed, durability and comfort.
Featuring razor sharp, triple ground 'turbo cut' teeth, the Sabretooth Trade Saw offers superior cutting performance compared with double ground teeth found on some market leading competitors.
In fact, independent testing carried out by the Cutlery and Allied Trades Research Association (CATRA) found that the Sabretooth Trade Saw outperforms other UK market leading brands, providing up to 22% faster cutting performance.
In addition to superior cutting performance, the Sabretooth Trade Saw also offers an extended working life thanks to its premium quality, SK5 alloy steel blade, and induction hardened 'stay sharp' hardpoint teeth, providing strength and longevity.
Ensuring maximum comfort in use, the Sabretooth Trade Saw also features a dual component, cushion grip handle, ergonomically designed to further enhance the accuracy and quality of cut and provide effortless sawing with a sure grip. The handle also offers the convenience of 45° and 90° marking out angles.
Accounting for a variety of applications, three saws have been launched in the range; the Sabretooth Trade 840 Universal Saw in both 20" and 22" with seven teeth per inch, and the Sabretooth Trade 940 Fine Cut Saw in 22" with nine teeth per inch, providing more efficient and accurate and cleaner cuts to finer jobs.
Graham Godfrey, brand manager, C.K tools, said: "The new C.K Sabretooth Trade Saw is more efficient in terms of time and energy expended and will therefore stay sharper and last longer. Like all of C.K tools' products, the saw has been developed following extensive research.
We were determined to set new standards in cutting ability and we have managed to excel at doing just that, tests show it outperforms the best."