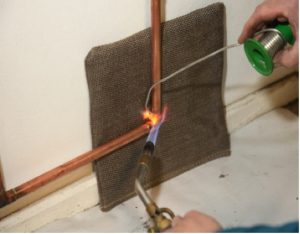 The Tough Mat Range consists of Geotextiles specifically designed for the professional trade and DIY enthusiast from NAC Industrial.
The Tough Mat Range is constructed from a variety of tough woven fibres backed with a high heat bonded waterproof layer to stop any liquids moving through the Tough Mat. With no stitching or adhesive laminating, the products are literally fused together.
The Burn Mat range has been designed to provide tradesmen using high temperature brazing and soldering equipment with protective thermal mats.
Range features include reusable, double skinned Kevlar stitching, abrasion resistant to minimise marking, integral radiant heat barrier, BS 476 part 20 and part four compliant, Class 'O' building regulations 2000 compliant and temperature resistant to 1,000ºC. It can be cut to shape with no loss of performance and thin designs for ease of working.