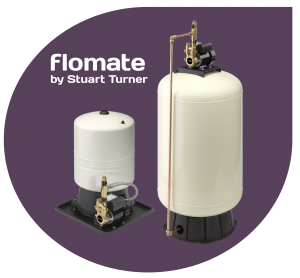 Stuart Turner has increased its Flomate range with the introduction of 80, 100, 200 and 300 litre options – providing water pressure boosting solutions for any sized property.
Flomate Mains Boost Extra pumps provide a consistent flow of water and increased water pressure to a property, boosting multiple outlets simultaneously such as taps and showers.
The new 80 litre model sits neatly within a 500mm kitchen base unit and delivers up to 16 litres per minute at 3.0 bar pressure. The 100, 200 and 300 litre versions fit within a standard 600mm larder cupboard and provide up to 30 litres per minute at 3.0 bar pressure.
By supplementing the water pressure boosting performance of the original Flomate pump with the supply from the pressurised water vessel, Flomate Extra offers householders the ability to store water at pressure to meet peak demand and provides a fully assembled and tested solution to low water pressure problems.