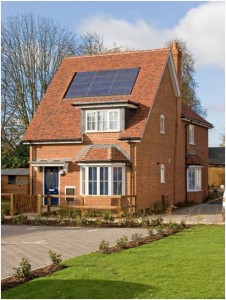 Green Deal Providers (GDPs) play a role in delivering Green Deal plans to consumers and businesses. There are a much smaller proportion of active GDPs registered than Green Deal installers and an installer has to team up with a Provider in order to access the funding making it a potentially lucrative position.
A GDP sits at the very top of the Green Deal Scheme and is the only participant able to directly access Green Deal funding and write Green Deal Plans.
Eco funding has taken a pounding over the past few months, with prices for carbon plummeting, lengthy payment delays reported and energy companies consolidating and using less and less partners to deliver their allocation and so for the first time far more installers are turning towards Green Deal Plans and Green Deal Finance.
Just look at the facts:
the value of Green Deal applications is now exceeding £1 million a week
over £35 million worth of plans and applications are in system
the milestone of 10,000 ongoing plans exceeded
Source: Green Deal Finance Company Webinar
I successfully obtained the status for many small and medium sized installers and I believe the reason there are not enough GDPs is that the process in becoming one is very long, complicated and time consuming.
GDPs are required to establish business policies and procedures to comply with legislation. The Green Deal Oversight and Registration Body (GD ORB) acts on behalf of the Secretary of State and manages a very complicated Green Deal authorisation scheme; very few companies have the time, staff, dedication or inclination to be able to see the work through from start to finish in becoming a Provider, particularly if they are already busy and absorbed in their present work load. Many companies start the process only to withdraw later when they see the work involved; once you start an application then the clock is ticking and so you have to achieve the time limits set by GD ORB otherwise your application is refused.
I have developed a successful system whereby I will obtain the GDP status for a company and work tirelessly through the masses of paperwork in order to get them authorised – and not just the larger companies.
I have already achieved GDP status for ten companies ranging from small sole traders to larger PLC firms. I am able to dedicate myself to the task in hand and being familiar with the various processes, guide your company speedily and professionally through the masses of paperwork and tasks to enable you to become a GDP and eventually access the Green Deal Finance that is now available through the Green Deal Finance Company.
Your company will also require a Full Permission Lending Consumer Credit License in order to operate as a GDP. From April 2014 the responsibility for Consumer Credit Licenses issued by the Office of Fair Trading expired with the Financial Conduct Authority taking over. The standards have increased significantly in obtaining a consumer credit license, the bar has been raised, and there is now an even greater deal of work and a very complicated application process involved in obtaining a consumer credit license. Again, I take this burden away from you enabling you to concentrate on your existing business while I get on with the process.
In my opinion it is likely at some stage in the future that the number of Provider's will be capped and, therefore, there is never a better time to do this and take advantage of this exciting and emerging new market. Current GDP are now writing domestic Green Deal Plans for customers with their Green Deal assessments and this has expanded to cover the properties of landlords and their tenants and, thus, demand for installations will continue to increase.
For more information, call: 07887 552 442