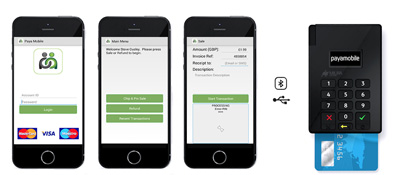 Provided by Acceptacard, the Paya mobile app and Bluetooth card reader allows you to accept credit and debit card payments using your smartphone or tablet. The service is pay as you go – which means there's no monthly or minimum usage charges or any other ongoing financial or contractual commitments.
The service uses mPOS Chip and PIN device – the Miura Shuttle. Fully approved, the device connects via Bluetooth to your smartphone or tablet and is ideal if you're looking for a no commitment, low cost way to accept card payments.
Features include:
Compact, portable, connects wirelessly using Bluetooth
Option to use your mobile network or Wi-Fi, whichever phone connection is available
No minimum usage fees or any other ongoing costs – uses your smart phone for all comms
Sale and refund capability with immediate authorisation
Option to input invoice numbers, product or service descriptions
Your business name appears on cardholder statements
Electronic receipting via email or SMS text
Secure, PCI approved
To get the service, simply apply for a free card processing account from Payatrader using code HPPLCP.
Once the account is open, order the mPOS Chip and PIN device for a one-off payment of £79+VAT. It's easy to set up – simply download the Paya Mobile App from the Apple Store or Google Play.
The cost to process a transaction is 2.9% – however, if you upgrade the account to the full multi-channel service (allows you to accept payments online and by telephone too) the rate you pay is based on your weekly card turnover, between 2.3%-2.9%.