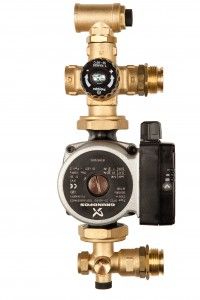 Polypipe, manufacturers of above and below ground drainage, plastic plumbing and underfloor heating (UFH) systems, has further extended its UFH offering with the launch of a new pre-assembled brass pump pack.
As UFH systems require a lower water temperature than radiators or storage units, it is important to ensure that water supplied to the manifold is between 30°c and 60°c.
Allowing the simple adjustment of the mixed water flow temperature, the factory assembled pump pack limits the system's operating temperature to this optimal range, providing comfortable warmth while maximising efficiency.
The unit also offers easy left and right side manifold fitting, simply by rotating the pump pack through 180° before installing.
In some cases it is advisable to protect UFH systems from the risk of sudden increases in water temperature, which may be caused by boiler issues. In such circumstances the floor temperature may raise beyond recommended levels, reducing both efficiency and user comfort.
In order to offer additional security, Polypipe is also offering an optional high limit protection unit, which will turn off the UFH system should the temperature of the water from the boiler exceed safe limits. By completely closing the two port motorised zone valve fitted to the primary flow pipe, the unit prevents water from entering the system.
Further protection is provided by an integrated flow filter, reducing the risk of debris damaging the pump.
Andy Coy, product manager for UFH at Polypipe, said: "By launching this new, pre-assembled pump pack we're further simplifying the installation process, while the ability to control and limit the temperature of water entering the system will provide peace of mind for both installers and their customers.
"The unit's brass construction means that it will stand the test of time and will ensure maximum compatibility with our existing range of brass manifolds."