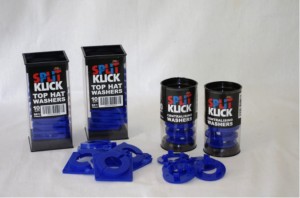 Split Klick has launched a new range of packaging for its Centralising and Top Hat Washers. The washers claim to offer much quicker, stronger and longer-lasting installations when fitting taps onto baths, basins and worktops. The Centralising Washer does what it suggests – automatically centralising taps, while the Top Hat Washer allows replacements to be undertaken without disconnecting pipework.
Bringing the product to market was a challenge for the company – how to win merchant shelf space and make a product look eye-catching?
After much research the company contacted Bell Packaging and a series of prototypes were developed.
The solution lay in the patented Jetran design. The packaging provides instant appeal to the consumer. Commenting on the packaging development, managing director, Ian Hutchinson said: "We really needed to make a statement and ensure that the product was not downgraded in appearance or value. Using Bell Packaging's Jetran range we identified two sizes that enabled us to provide multipacks in an attractive, economic and presentable fashion."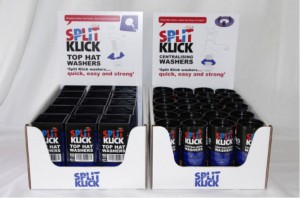 Having selected the designs, Bell provided finished samples for Split Klick to present to their customers. The new packaging is now available to plumber's merchants and the washers are stocked by groups including, ScrewFix and Plumb Centre.
Split Klick have now developed a shipping/presentation tray. This enables the product to be displayed on merchant's counters.
To complement the product Bell provided coloured end caps – the original thinking was to have these clear however the black finish provides a robust appearance which does not show dirt or dust.
Supplies of the finished products are now being distributed throughout the UK. Split Klick are in discussions regarding a number of new products which will be launched in the coming months. Many of these will also be supplied in Jetran packaging.