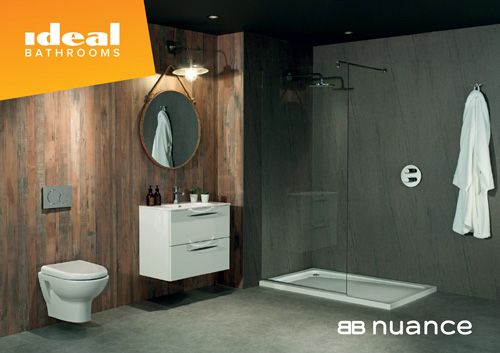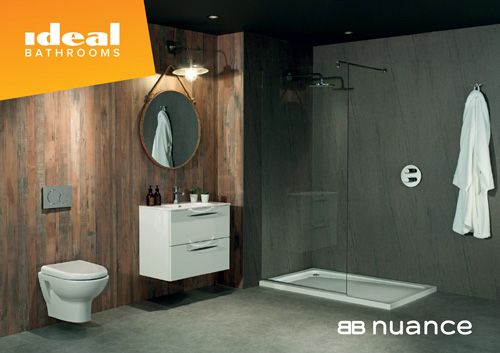 Ideal Bathrooms has announced a new partnership with Nuance, the leading wall panelling brand from Bushboard.
The addition of Nuance reflects the extremely strong growth of wall panelling, with many retailers now advocating the benefits of this waterproof design solution ahead of conventional tiling. It perfectly complements Ideal Bathrooms' existing brands portfolio, ensuring it continues to offer retailers the complete bathroom solution. The Nuance range is now in stock across all four of Ideal Bathrooms' distribution centres, offering next day delivery across mainland UK.
The addition of Nuance to its portfolio reflects the findings of Ideal Bathrooms' first ever Ideal Industry Report, which highlighted the growing demand for waterproof wall panelling for bathrooms.
Commercial director, Danielle Lillis, said: "We are extremely proud to welcome our new partner, Bushboard, and its Nuance range to Ideal Bathrooms. The findings of our Industry Report earlier this year highlighted that there were significant market growth opportunities in wall panelling – a category we have now strengthened within our portfolio with this new supplier partnership. Call us idealists, but at Ideal Bathrooms we do strive to partner with market leading brands in all product categories, so Nuance is the perfect wall panelling partner."
Commenting on the rationale behind the choice of Ideal Bathrooms as its distributor, Bushboard commercial director, Neil Horton, said: "We have had a successful relationship with Ideal Bathrooms' sister company, International Decorative Surfaces, for well over ten years. The basics of good business have been a cornerstone of our success together; supporting the retailer and installer with clever products that are easy to sell and install, and make good margins; alongside greater ability nationally with local service and backup. We are looking forward to replicating this with Ideal Bathrooms."
Bushboard's Nuance panelling system is designed for bathrooms, showers and wetrooms, being 100% waterproof and, uniquely, is fitted without extrusion.
The market growth for bathroom wall panelling results from the increased popularity of wet rooms and walk-in showers. The strong style trend for streamlined surfaces means more and more bathroom designers are now regarding wall panelling as both a design and practical alternative to tiling. Bushboard's Nuance is ideally suited to meet the demands of this growing market with a wide spectrum of granite, marble, weathered timbers and concrete designs.