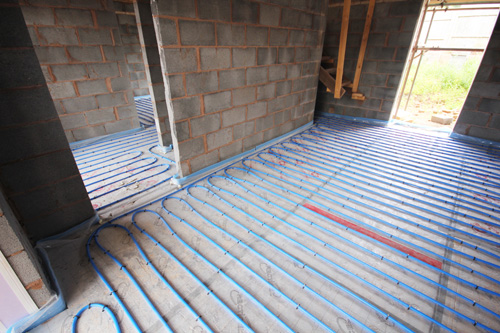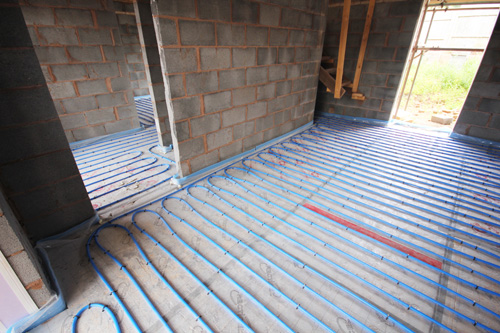 A high quality residential development, being undertaken in one of Devon's most sought-after locations, is making extensive use of underfloor heating (UFH) systems from the well-proven and very versatile OMNIE range.
The four properties at Clearwater Court in Clyst St. Mary – two of them conversions of a former industrial building and two new-builds – are nearing completion by Vision Developments (SW), creating spacious and energy efficient homes with character. Within the converted paintworks, the modernised masonry construction offers both high standards of insulation and thermal mass, while the space heating is being provided by high performance gas boilers, distributed by two OMNIE solutions.
The boiler in each property is connected via two of OMNIE's Axios manifolds located at ground floor and first floor level. Across the kitchen and other downstairs rooms, OMNIE's Staple system has been installed over insulation before being covered by a screed. Then, in the bedrooms and bathrooms, the specification switches to the LowBoard 15 panels, installed over the particleboard flooring with insulation between the timber joists.
Managing director, Vision Developments (SW), Richard Parker, said: "This is a high-profile project for us as a regional development company, where we are offering prospective purchasers a very high standard of specification for a sale value of £345,000.
"As well as a high-quality finishes and good space standards, we wanted to ensure the properties are comfortable to live in and economic to heat. We have used the OMNIE systems on other projects in the past and know they are both easy to install and reliable, while we are also assured of good technical support where required. Each system is designed specifically for the build from square one, so everyone is covered for their specifications, right through to the tiling on top."
OMNIE provided Vision Developments (SW) and the installer, Exeter based Radiate Heating and Plumbing, with detailed layout drawings showing the different pipe runs and manifold positions in relation to the room layouts. The design support included heat loss calculations and flow settings for the commissioning of the UFH.
For more information, visit: www.omnie.co.uk.