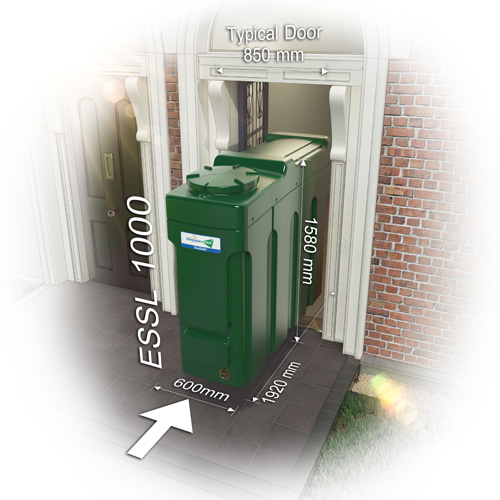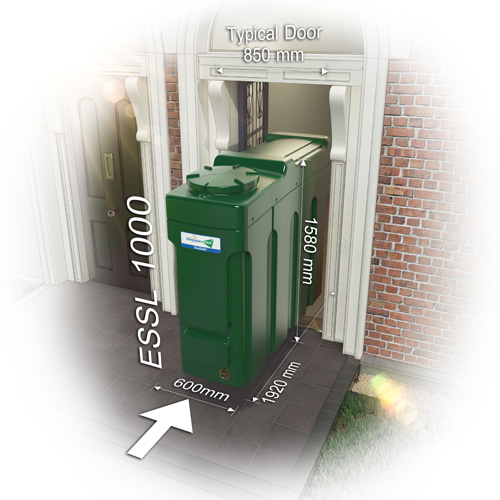 Kingspan Titan EcoSafe Slimline tanks are among the slimmest integrally bunded oil storage systems available in the UK and Ireland.
In common with all Kingspan Titan plastic storage tanks, EcoSafe Slimline tanks are renowned for their double skin construction and durability. Each tank is designed to provide the user with full regulation and environmental compliance and all are CE marked in accordance with the mandatory Construction Products Regulation 2011.
All have a Watchman Alarm oil level monitor fitted as standard. The Watchman Alarm uses a transmitter on top of the tank and ultrasonic level techniques to measure the level of oil in a tank enabling you to take control of your tank levels and reducing the possibility of running out of oil.
The EcoSafe Slimline tanks are manufactured in various sizes to suit the tightest of spaces, from 1,000 litre, 1,400 litre, to 2,000 litre capacities, with a footprint which ranges upwards from just 1.152m2 to 2m2.
All offer safe and secure heating oil storage at both commercial and domestic premises where space is limited and access restrictions may apply. Their slimline profile makes installation quick and simple allowing installers to manoeuvre and fit the tank into narrow spaces. The EcoSafe Slimline 1,000 litre oil tank can easily fit even through your front door.
For more information, visit: www.kingspantitan.com, e-mail: titan@kingspan.com or call: 028 3836 4444.