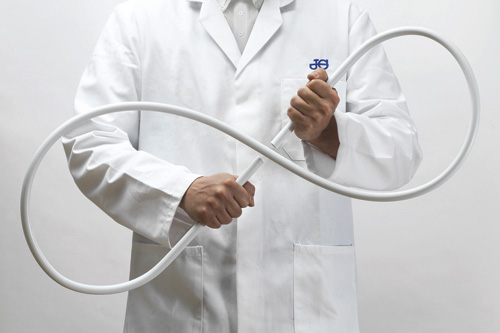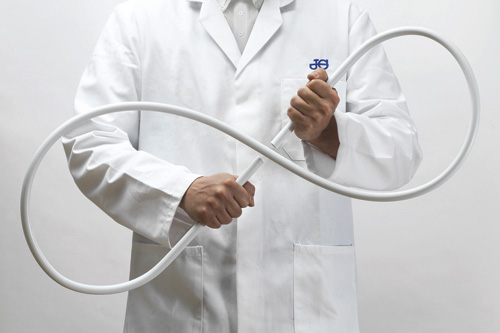 Following overwhelming demand from its customers for pipework which is ultra-flexible and available in shorter coil lengths, JG Speedfit has introduced two new variants of its popular Layflat pipe.
The company has launched a 25 metre coil length of the 10mm Layflat pipe, considerably smaller than the previously available 50 metre and 100 metre lengths. The 25 metre range will offer installers a shorter run of pipe for smaller, domestic projects, and is suitable for central heating installations, refurbishment, maintenance work and new builds.
JG Speedfit has also introduced a 28mm Layflat pipe available in a 50 metre coil, the largest product available within the range. This has been specially developed to plug a gap in the range as an extension to the straight lengths of 28mm pipe. The new pipe has been requested by installers to suit commercial plumbing projects, including new builds and refurbishment maintenance work. Both new variants have been designed following JG Speedfit's unique formula, with low memory retention. This ensures that the pipe stays straight and lays flat once removed from the coil, without trying to spring back into place.
After first being introduced to the market back in 2012, JG Speedfit's Layflat range has proved to be very popular with plumbers and installers, largely due to the fact that the pipe's design allows for greater control and ease of movement. This makes it possible for an installer to meander and route the pipe through joists and tight spaces. It also includes an in-built barrier layer, which prevents the ingress of air. This, in addition to the pipe's smooth inner surface, ensures an unrestricted flow through the system, with no limescale or corrosion occurring within the lifecycle of the product. Today, the Layflat range is available in 10mm, 15mm, 22mm, and now 28mm sizes, offering a solution to every installation challenge.
Mike Riseley, sales director, said: "The Layflat range is one of our most popular pipe solutions and we are continuing to listen to the needs of plumbers and installers as we evolve these products. By offering the 10mm Layflat pipe in a shorter coil length of 25 metres, and introducing a new 28mm range, we are confident that we now have a Layflat pipe for every plumbing application."
Place your orders for the new Layflat pipe range today. Stocks available for merchants from June onwards.
For more information, visit: Speedfit.co.uk.