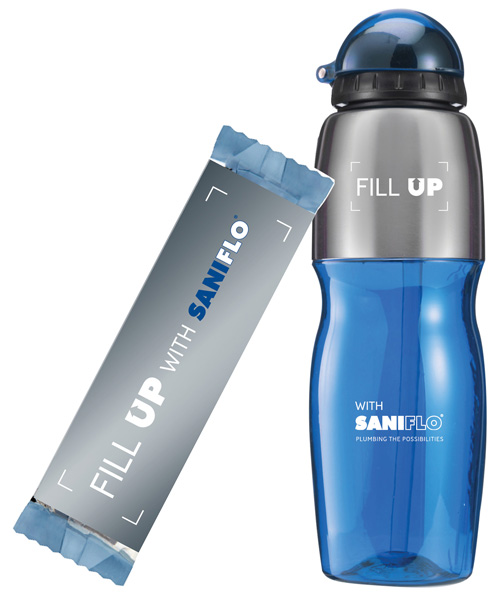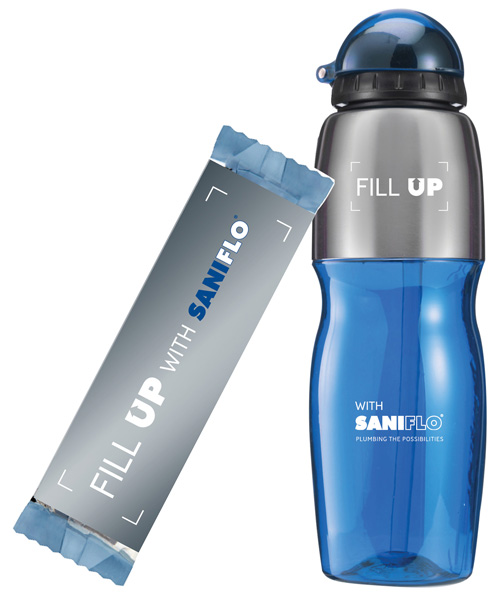 The Saniflo Fill UP competition to celebrate the launch of the brand new Saniflo Up range has received a massive response with more than 523 installers having signed up by May 3 to receive specially branded sports bottles and energy bars from the UK's leading designer and manufacturer of macerators and pumps.
Statistics to May 4 show the conversion from the e-shot click thru to the registration is 73%, the largest ever recorded for this type of campaign by data company Tiger Data. Sent on the Thursday before the May Day bank holiday, the majority of people viewed the e-shot on their mobile or tablet. Then on the Tuesday after the bank holiday, people viewed it more on their computers. A tweet by an industry magazine also received a huge response further bolstering the number of competition winners.
The giveaway is designed to ensure installers know all about the new domestic range of products from Saniflo which have been upgraded for ease of maintenance, quieter operation, sleeker design and which now have five years extended warranty, once registered. New products include Saniflo Up, Sanitop Up, Saniplus Up, Sanipack Pro Up, Sanipro Up, Saniwall Pro Up, Sanivite + and Sanishower +.
The new range will be on display at Phex + Alexandra Palace on stand 97 from May 17-18. Installers who visit the stand are being offered a further chance to 'Fill Up' courtesy of Saniflo by entering a prize draw for fuel vouchers which will be drawn several times each day.
To order your leaflets featuring the new Saniflo domestic Up range visit www.saniflo.co.uk