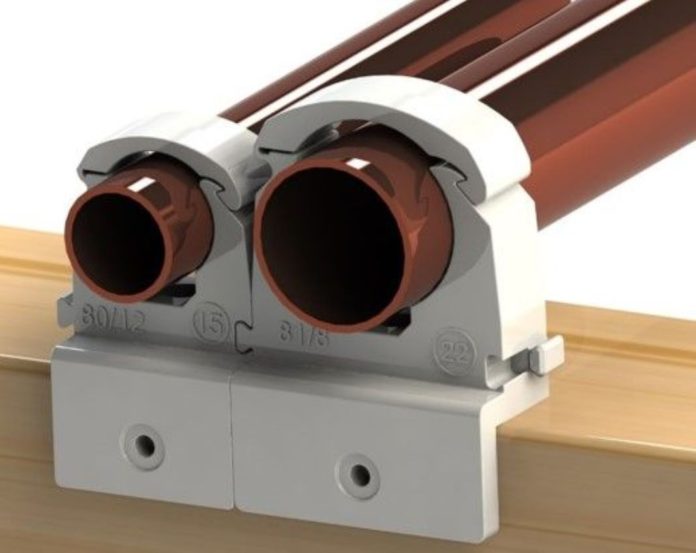 Talon Manufacturing has launched its latest product, the EZ Joist Clip, on the HPM Launchpad platform.
The EZ Joist Clip offers a solution when fixing Pipe Clips to new build and existing joist installs, allowing ease of work in awkward and hard to reach spaces.
The EZ Joist Clip is safer and easier when fitting by preventing the need for overhead installs. Manufactured in the UK to ISO quality standards, this polypropylene clip provides the user a secure fixing. In addition, the dovetail feature makes it possible for all sizes of the EZ Joist Clip to be connected, allowing for equal pipe spacing.
With the advantage of the EZ Joist Clip's side on benefit, using the nail provided, it creates a simple and speedy installation for pipes in hard to reach locations, preventing in-proper use of tools in what could become a dangerous situation whilst operating on a ladder. For continued simplicity the EZ Joist Clip can be easily positioned and fixed whilst the pipe is in situ.
Talon Commercial Director Dean Heathfield said: "The EZ Clip is Talon's revolutionary new product and the only one of its kind in the market, the new 'shoulder' design is simple but a huge game changer when it comes to ease and speed of install. You might be left wondering, why didn't anyone think of this before now?"
The Talon EZ Joist Clip is now available to purchase in your local merchants. To discover where go to www.talon.co.uk/find-a-stockist
Click here to find out more and watch the video on HPM Launchpad.