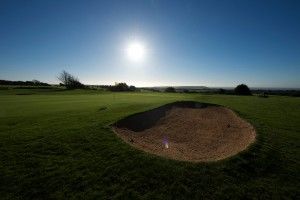 A green thinking golf course in Scotland is saving on its energy bills after installing an environmentally-friendly biomass boiler.
Hollandbush golf course in Lesmahagow, a Scottish town on the edge of moorland, joined forces with renewable supplier, Absolute, to install a 56kw Okofen pellet boiler in the club house at the course – expected to save hundreds of pounds a year.
Club house manager, Mags Cathcart, approached the renewables solutions business in November last year following soaring oil bills, working with the team at Absolute, a Glasgow-based renewable company, specialising in commercial biomass, wind and solar products, to take advantage of the Renewable Heat Incentive (RHI).
This scheme aims to encourage people to adapt renewable technologies in their home and business, with a view to driving down costs and implementing an eco-friendly heating alternative. It is the world's first long-term financial programme to support renewable heat, paying participants of the scheme that generate and use renewable energy to heat their buildings. Through increasing the generation of heat from renewable energy sources, such as Absolute's biomass boiler, the RHI helps the UK reduce greenhouse gas emissions and reduces the effects of climate change.
Alastair Cruikshank, head of the biomass division at Absolute, said: "Having discussed the requirements and options for Hollandbush, we identified that the pellet boiler would be the best option from an economic and an environmental perspective. Renewable solutions can help tackle the problem of soaring oil bills and can serve to generate a revenue stream. Hollandbush is a great example of that.
"We were able to complete the installation in just four days which meant minimum disruption to the day to day operations of the business. For each new client we ensure that we visit to the site and really get under the skin of their business in order to make the most appropriate recommendations with regards to the product. Sustainability and delivering a comprehensive return on investment is our priority in every scenario."
Mags said: "We couldn't be happier with the choice we made, not only in choosing biomass but using Absolute as the company to manage the project too.
"It was a great service from start to finish; the team at the office walked members of the club and committee through the process. The service is to be recommended to anyone who wants to become environmentally friendly and save costs."
Hollandbush was established in 1954 as a nine-hole golf course overlooking the unspoiled Scottish scenery, where golfers today are still treated to the view of the peaks of Ben More and Ben Vorlich on a clear day. Over time, the course has added more holes and now boasts a 18-hole course, ending at the clubhouse as a welcome rest for golfers and a popular venue destination for weddings and parties.
Since the installation, Hollandbush is continuing its work to become more environmentally friendly, with upcoming installations of LED lights alongside its eco-friendly hand dryers.