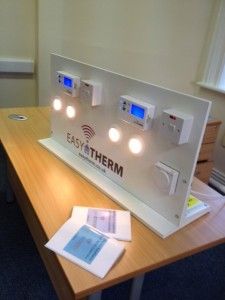 Over two years in the design and planning, Easytherm has just launched itself into the 'smart' heating and hot water controller arena.
Located in Bletchley Innovation Centre, Bletchley Park, and headed by Steve Lord, technical director and Paul Burke, managing director, Easytherm is now ready to go to the market with its internet-based smart boiler controller.
There is a massive need for end users and installers to pick the ball up with internet-based controls and systems. Easytherm believes that it will make life much easier having the right solution. Managing heating hot water is critical – it represents some of the highest costs.
Easytherm claims to be
Easy to install
Easy to set up and configure
Easy to use
And easy to start saving money on your heating and hot water.
In terms of installation and configuration, nothing could be easier. It is a single box solution with wi-fi built in and an on-board thermostat, if you wish to use a single point for temperature reference.
Being designed by installers for installers, the unit clips straight onto a BG standard six pin back plate. So, in the majority of cases, there is no need for any rewiring or reconfiguration. In Easytherm's trials with local installers, they have experienced an average 'from box to wall' installation of less than five minutes, with configuration and downloading the app onto the customers' smartphone or other mobile device taking another ten minutes. Everything, including a mini training session for the customer, can be undertaken in less than 30 minutes. At a market beating unit price, profits for the installer can soon mount up.
Already planning big things, a four channel and remote thermostat which is soon to be released will be a massive step forward in the boiler controller market, claims Easytherm.
For more details visit: easytherm.co.uk