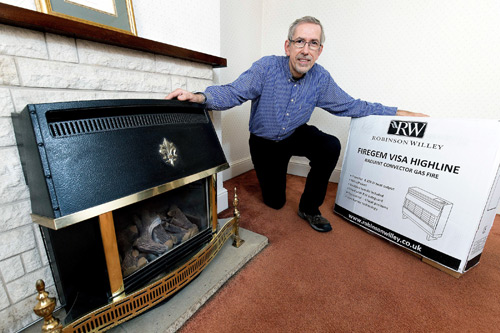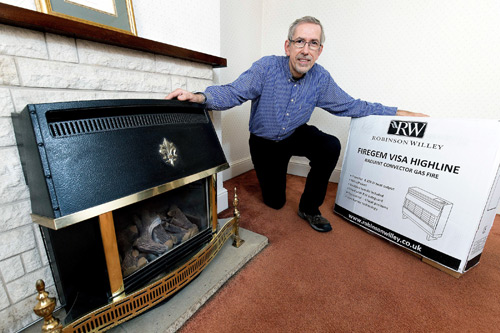 A Valor Homeflame Super 470S dating back to the 1980s has been nominated as the 'winner' of the brand's nationwide hunt for zombie gas fires – models with outdated technology that refuse to die, thus never get replaced.
Valor, part of Glen Dimplex Heating & Ventilation, launched the competition earlier this year, asking installers to nominate legacy models they have worked on. Fires from as far back as the 1980s were put forward, supporting Valor's estimate that there could be more than four million zombie gas fires over 20-years-old, currently installed in UK homes.
The 'winner' was a Valor Homeflame Super 470S, installed way back in January 1988 in Andrew Petruszak's home in Gloucester. Nearly 30 years later, it is still working fine – although it will soon be replaced with a Firegem Visa Highline Deluxe after Mr Petruszak was given the opportunity to choose a new fire from the Valor portfolio.
Andrew said: "It's clear that these fires were built to last, as proved by my existing fire which is still going strong after nearly 30 years. But I'm excited to see the benefits of a modern fire.
"I live in a terraced house dating back to the 19th century, with no central heating. Instead, I use gas fires and wall heaters to heat individual rooms and keep running costs down. The gas fires are easy to use, cheap to run and clearly they are long-lasting."
The Homeflame Super 470S was nominated by Richard Gough, a former British Gas installer who also lives in Gloucester. As part of the competition, he was presented with a 'zombie experience' for him and four friends from Valor.
Jonathan Smith, product marketing manager for Glen Dimplex Heating & Ventilation, said: "We all know the old saying; 'if it ain't broke, don't fix it.' But in the case of gas fires, it's not true.
Modern gas fires are more efficient, they offer greater control over the flame picture and they are safer too, thanks to the addition of a flame safety device that cuts off the gas in the unlikely event that the pilot light becomes extinguished."