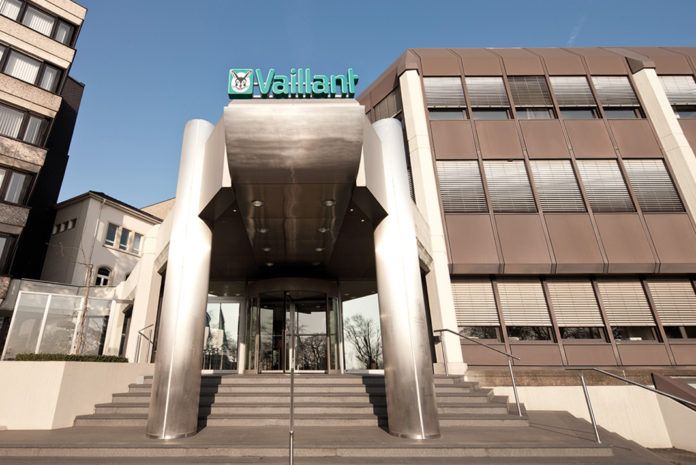 Vaillant Group, the heating and technology manufacturer, has announced a major investment in a new innovation centre which expands the business' global headquarters as part of its concerted focus on the renewables sector.
The development has seen the creation of a brand-new, research & development centre at the business' global headquarters in Remscheid, Germany. The new construction has cost in excess of 50 million Euros.
The new area comprises of a test centre which takes up over 9,000 square metres and two additional office blocks. The new development houses 570 Vaillant Group employees and all teams involved in key product development have moved into the new complex.
The test centre also houses more than 230 test rigs, including 40 heat pump test rigs, 21 climatic chambers alongside both a drop test and wind test laboratory.
To support this expansion, Vaillant Group has also put in place infrastructure that enables UK installers to take advantage of the investment to drive the growth of their own businesses.
As well as providing a range of heating products designed to run from renewable sources, Vaillant Group also offer a dedicated resource to support installers in the sale of renewable products.
This includes dedicated sales and system technologies teams, as well as ensuring all training centres are equipped with renewable products and run dedicated training courses. In addition, an after-sales support network has been built with field based renewable service engineers and dedicated support technicians.
The announcement supports Vaillant Group's commitment to fulfil its obligations in terms of contributing to industry-wide targets on the electrification of heat. The UK government is committed to a pan-EU initiative designed to ensure that 20% of EU energy is derived from renewable sources by 2020.
Klaus Jesse, managing director at Vaillant UK, said: "The construction of a brand-new research and development centre at our headquarters in Germany is a landmark moment in the 144 years of our business.
"We are committed to being at the forefront of the industry's efforts to drive the adoption of renewable heat sources by consumers across Europe.
"This is a major step in these efforts, allowing us to invest in being an innovative brand within the sector and driving ongoing business benefits for our UK installer base."