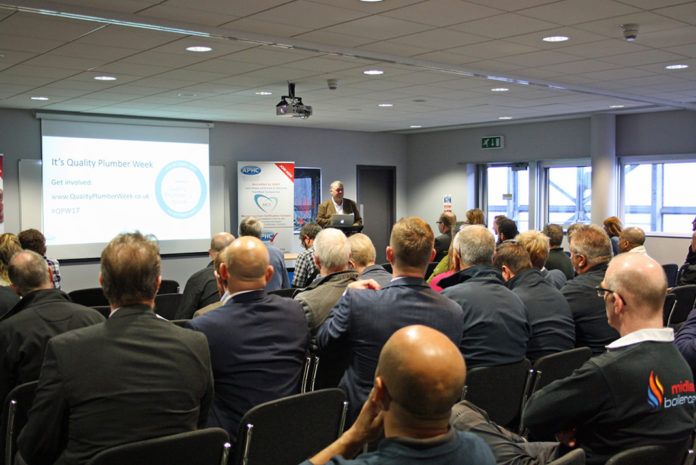 The Association of Plumbing & Heating Contractors (APHC) is inviting plumbing and heating engineers to attend a free half-day workshop to review possible framework proposals and to provide opinion and ideas on a Compulsory Licensing Scheme to operate a plumbing and heating business.
The free workshops are being hosted by APHC and BPEC and include special guest company Monument Tools.
APHC believe that a Licensing Scheme should protect and forbid anyone using a term such as 'Licensed Plumbing Company' or 'Licensed Heating Company' or 'Licensed Plumbing & Heating Company' unless the company and its installers are accredited and undergo a programme of continuous professional development and scheduled assessment.
However, APHC would like to open this up to debate and scrutiny and are calling for plumbing and heating engineers to have a say.
CEO, John Thompson, said: "We want to discuss the rights and wrongs of such a scheme, how it could fit within the current framework of legislation and existing competence schemes, how it could be enforced, funded and promoted, what could the membership criteria look like, how would competence be measured, how could it work for new entrants, existing installers and those installers with many years' worth of experience but who don't hold an official qualification – just to mention a handful of discussion points."
The half-day workshops will run between 9am and 12pm on:
· 2 Oct – Leicester, which includes an Expo of leading industry suppliers and manufacturers
· 3 Oct – Surrey, hosted at Monument Tools and includes a factory tour
· 4 Oct – Taunton
· 5 Oct – Newport
· 10 Oct – Chester
· 11 Oct – Leeds
APHC will also be speaking about the viability of a single mandatory Licensing Scheme at PHEX Manchester (October 3-4), plus there will be open debate on social media during Quality Plumber Week (October 1-7) via the hashtag #QPW18 on Twitter, Facebook and LinkedIn.
For further information or to book a place on one of the free APHC regional workshops, contact APHC on marketing@aphc.co.uk or 0121 711 5030.