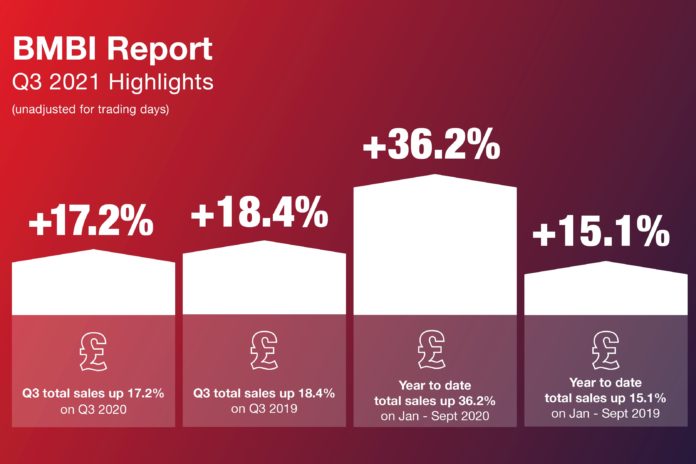 Latest total value sales data from Britain's Builders' Merchants show a continuation of the strong growth seen throughout 2021, as Q3 recorded the second-highest quarterly BMBI sales ever.
However, the index identified signs of a slowdown as volume growth gives way to value growth, driven by price increases.
A statement said that total value sales in Q3 2021 were 17.2% higher than Q3 2020, despite one less trading day this year.
Eleven out of the 12 product categories sold more over the period. Timber & Joinery Products led the field, up 43.9%, while Kitchens & Bathrooms, up 11.8%, also recorded its highest-ever BMBI monthly sales.
Mike Rigby, CEO of MRA Research, which produces the report, said: "This year has been just as unexpected as 2020 for merchants, but for more positive reasons, with the most recent quarter showing a continuation of the strong growth experienced throughout 2021. Year-to-date, the sector is up by 36.2% in value over 2020, and 15.1% ahead of the same period in 2019. That's way ahead of growth forecasts made at the beginning of the year. However, the sector is now starting to see the first signs of easing as price increases take over from volume sales to drive value growth.
"Housebuilding and infrastructure projects continue to boost sales, with heavy-side activity – such as the astounding growth of timber and landscaping sales and the strong performance of heavy building materials – driving growth.
"The final quarter of the year is likely to see a slowdown in demand, as merchants' sales return to more manageable levels after an exceptionally busy year. Supply chain problems seem to be easing, but a consensus in the market suggests these could persist until 2023 so we are not out of the woods. But it's safe to say, that end of year figures will be noticeably ahead of initial forecasts in an exceptional year."
Developed and run by MRA Research, the BMBI – a brand of the Builders Merchant Federation – is a monthly index of builders' merchant sales.