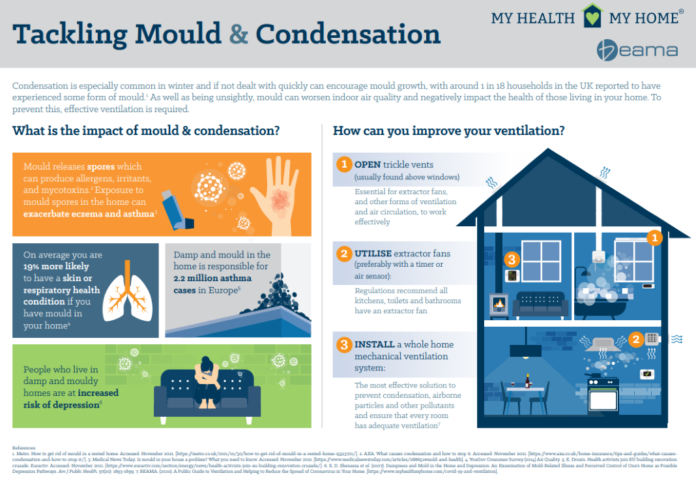 Ventilation improvements are essential in combating the onset of mould in UK homes as winter months approach, experts from BEAMA have stressed.
The trade association has issued clear ventilation guidance to tackle mould, in the hope new advice will help boost public understanding surrounding the impacts of condensation and mould, and act as a valuable resource for industry.
The guidance, which highlights the serious health impacts caused by a build-up of condensation and mould in the home, spotlights three key ventilation solutions to help tackle the problem: utilise extractor fans, open trickle vents and install whole home ventilation systems.
It hoped that the guidance will help drive a greater understanding of the impact mould can have on our health and wellbeing and the importance of ventilation.
The guidance is timely given condensation is particularly common in winter, BEAMA said, as homes are kept airtight to keep in the warmth and conserve energy. An airtight home often means there is little to no natural ventilation occurring to help remove excess moisture which encourages mould growth, is dangerous as it releases spores that can contribute to a build-up of indoor air pollutants, producing allergens, irritants and mycotoxins which put the health of those living in the home at risk.
With the government Net Zero strategy and the energy price crisis, people are focusing more than ever on ensuring their homes are energy efficient and sufficiently insulated this winter. Whilst this conserves energy, it also threatens to compromise the ventilation of homes across the UK and create or exacerbate mould issues, BEAMA said.
With around one in 18 households in the UK experiencing some form of mould, it was described as vital the public understand the importance of ventilation for reducing mould, delivering improved indoor air quality, and ultimately protecting their personal health and well-being.
Colin Timmins, director of Building Technologies at BEAMA, added: "Public understanding on the importance of ventilation for our health and wellbeing is worryingly low, yet fundamental to making a lasting and impactful change. With this ventilation guidance on how to tackle mould, BEAMA aims to support the public as we winter a critical winter period, while providing industry with a useful tool to help drive public understanding."