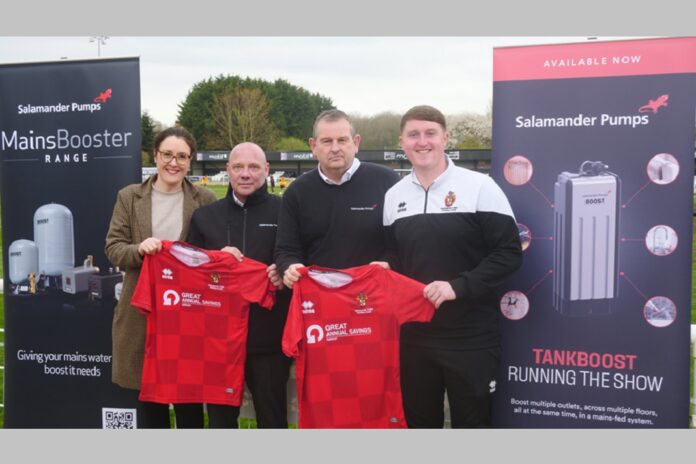 Salamander Pumps is to be championing Spennymoor Town FC's 'Moors in the Community' programme, which aims to use the football club 'to bring the community closer', a statement has said.
As part of the sponsorship, Salamander Pumps has pledged to support Spennymoor's youth club delivery sessions, which are being hosted in partnership with Spennymoor Youth and Community Association.
The partnership with Spennymoor Town FC aligns with Salamander Pumps' commitment to actively support the wider north east community and charitable organisations that share the company's core values.
Salamander Pumps championed the British Heart Foundation, raising donations through completing charity challenges. The manufacturer also donated £5 to the charity with every sale from select retailers of a shower pump from its popular CT Force range.
Luke Cowie, Spennymoor Town FC's community development manager, said: "This sponsorship will allow Moors in the Community to interact with neighbouring communities and further enhance the sessions being delivered in the surrounding area.
"The Salamander Pumps team have been fantastic and I can't thank them enough for agreeing to sponsor us because it gives us the platform to grow further and make an even bigger impact on children's lives in the local community."
Claire Thompson, director of marketing at Salamander Pumps, added: "We are dedicated to support our communities here in the North East and championing grassroots sport is a great way to do that.
"Spennymoor Town had a fantastic season, narrowly missing out on a play-off spot. We're looking forward to cheering them on next their next campaign while continuing to help the club connect with the surrounding communities."
Based in Sunderland, Salamander Pumps has been developing solutions to improve water pressure and flow for over 30 years.