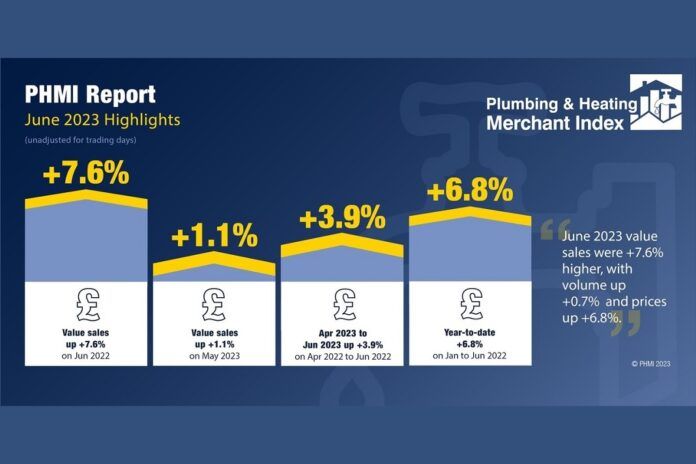 Price growth remains a factor in driving the rise in annual sales value, as year-on-year volumes are down, according to figures released by the Builders Merchants Federation (BMF) in its latest Plumbing and Heating Merchants Index (PHMI). There are, however, signs that price growth is slowing.
Overall Quarter 2 (Q2) 2023 saw a 3.9% increase in sales values compared to Q2 2022, with no difference in trading days. However, growth stemmed entirely from higher prices,  up 7.2%, as volume was -3.0% lower than Q2 2022.
Total value sales in Q2 2023 were 12.0% lower than Q1 2023. This was a combination in reduction in volume sales, down by 8.9%, and prices falling by 3.4%. It should be noted that there were four less trading days in the most recent quarter, therefore like-for-like value sales, which take trading day differences into account, were only 6.1% lower in Q2.
Over the last 12 months, volumes have held steady. Plumbing and Heating Merchants value sales in the period from July 2022 to June 2023 increased by 8.4% compared with the previous 12 months. The result is a combination of prices increasing by 9.1% and volume falling by just 0.7%. Taking account of one less trading day in the most recent 12 month period, like-for-like value sales were 8.8% higher.
The data for the PHMI is taken solely from plumbing and heating specialists, including City Plumbing Supplies, James Hargreaves Plumbing Depot, Plumbfix, PTS, Williams & Co, and Wolseley. These companies form part of GfK's Plumbing & Heating Merchants Panel, and there is no overlap or double counting between the PHMI and the BMF's established Builders Merchants Building Index which analyses sales at generalist merchants.