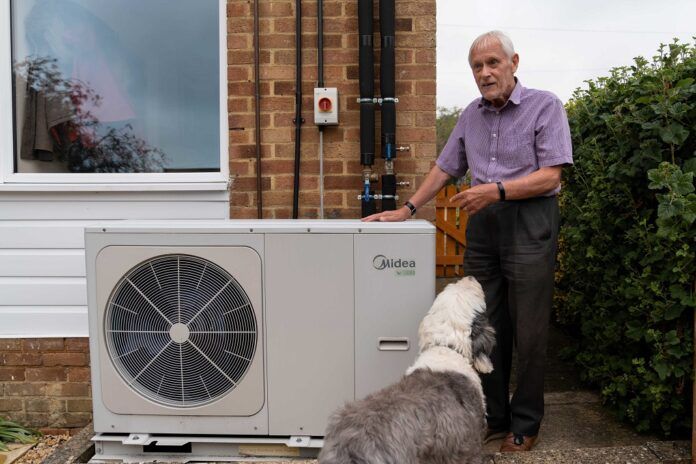 Good Energy have launched a new campaign called 'green home stories' to encourage the switch to cleaner and greener homes.
One story features an Oxfordshire couple in a short film who have praised the "transformational" impact of installing a heat pump.
Social workers Paul, aged 72, and his wife Anne, aged 70, have lived in their home for almost 40 years. They loved the property but were disappointed by their heating system, according to Good Energy. Not being connected to the gas grid, they originally used coal but switched to bottled gas and then an oil-fired system.
Anne said: "It was too expensive to warm all of the house, so we had to choose which rooms to heat and avoid using the others. We were perpetually cold. We had to sit in blankets, and we had to brace ourselves to get up in the morning."
Paul added: "The oil tank was at the top of the garden but it smelt all the time. It was horrible."
The couple already appreciated the benefits of green technology after installing solar panels on their roof, so they decided a heat pump might be the solution to their problem.
The new system was installed in 2021. Good Energy's engineers assessed the property to create a bespoke plan and then a small team of the company's installers took five days to carry out the work.
The couple say the heat pump is likely to save them hundreds of pounds in a normal year, but it's not only the financial impact which has surprised them.
Paul said: "We think we have saved in the region of £500 to £600 since the installation and we hope to save even more when the market settles. It's made an amazing difference. Our home is now permanently comfortable and it's a pleasure to live in.
"There's a constant level of heat throughout the property – we absolutely love returning to a warm house. Some of our neighbours were worried about the noise from the heat pump when we told them we were having one installed, but it's so quiet."
Nigel Pocklington, Good Energy's chief executive, added: "We're grateful to Paul and Anne for sharing their story as part of our new campaign.
"There's so much misinformation clouding the debate around heat pumps, so it's important to hear from people who have made the switch and never looked back.
"Heat pumps should be installed in all new buildings as standard, and retrofitted in as many other buildings as possible, to reduce energy bills and support the transition to a cleaner and greener future."