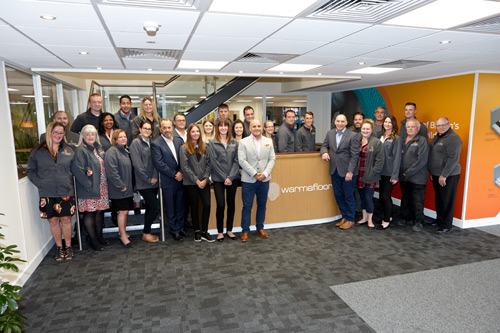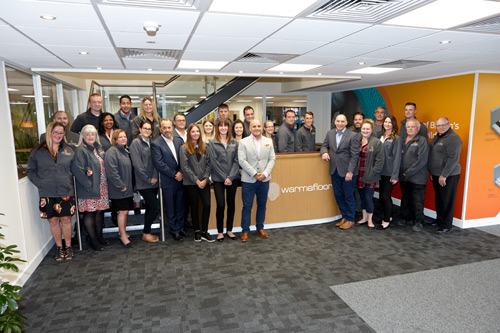 Warmafloor, the UK provider of underfloor heating (UFH) and cooling systems for commercial, public and residential buildings, has moved to new headquarters in Hampshire.
The company has also appointed Neil Iacobucci as commercial manager. Neil will be based at Warmafloor's new head office in Fareham. Entirely owned by the company, the purpose-built office facility will not only be able to house all of its existing staff, but provide capacity for the team to more than double in size over the next few years.
Warmafloor has customised the space to include an interactive product wall to showcase the company's extensive range of UFH systems, as well as a demonstration area, which will allow visitors to test its INTELIQ™ smart control system. Offering more natural light and open areas, the office has also been designed to boost the health and wellbeing, as well as productivity, of team members.
The move follows on from the previous expansion of Warmafloor's team to include an office in Doncaster, South Yorkshire, further strengthening its national reach.
Neil has been tasked with developing Warmafloor's future business strategy and structure during a period of sustained growth. A leading UFH expert, Neil previously worked at the company for 14 years, before moving to leading plastic piping systems manufacturer, Wavin.
Neil said: "The team here is really excited by the new office space. Not only does it reflect the growth of the business, but it puts us in a much better position to move forward with our ambitious plans for the future."