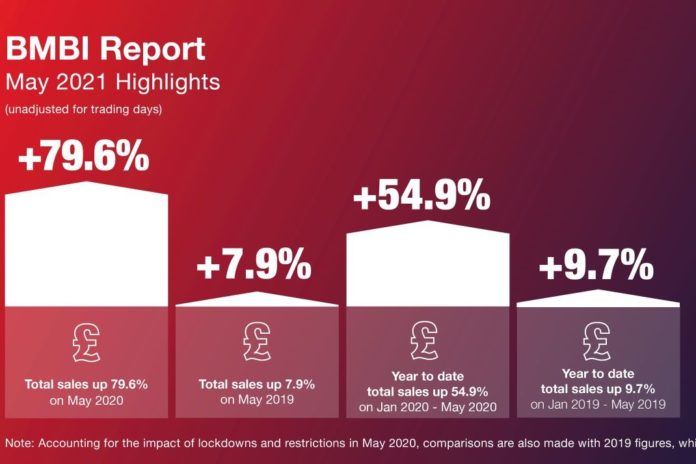 Latest figures from the Builders Merchants Building Index (BMBI) reveal that year-on-year sales through UK builders' merchants are on an upward trajectory.
Total Merchants value sales were up 79.6% in May 2021 compared to May 2020 with no difference in trading days. Comparisons with May 2020 show a turnaround in fortunes for many categories. Tools performed the best, up 180%, after being the weakest category in May 2020, and six other categories more than doubled year-on-year sales, including Kitchens & Bathrooms, up 154.9%, Plumbing Heating & Electrical, up 118.1% and Timber & Joinery Products, up 115.1%.
The country was still in full lockdown in May last year, so significant increases are expected. However, total sales were also up 7.9% compared to May 2019, with two less trading days.
Mike Rigby, CEO of MRA Research, said: "Year-on-year sales are looking strong and they will surely continue to gather momentum as the remaining restrictions are lifted and more inside trades get back to work.
"To ensure we continue on a growth trajectory, balancing supply and demand will be key. Supplier lead times are the highest they've been for almost 25 years, putting pressure on pricing and customer service."