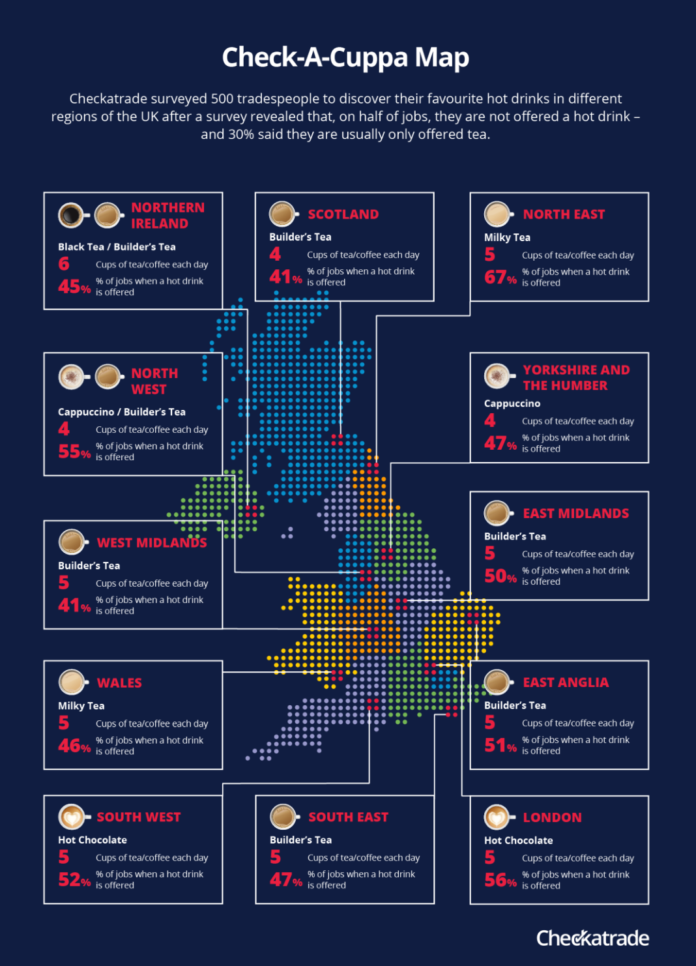 A rising number of installers are turning to coffee rather than tea for their daytime refreshment.
Latest research by Checkatrade has found 60% of tradespeople ditching the traditional 'builder's tea' in favour of other hot drinks.
A quarter of trades are now opting for what Checkatrade coined a "labourer's latte" with 14% also preferring a trendy matcha latte.
The study of 500 tradespeople discovered that one in five are dumping dairy and choosing alternative milks with almond milk, among 19%, coconut milk, for 19% and oat milk, 14%, among the most popular.
The research by Checkatrade also found younger tradespeople have a penchant for hot chocolate, with 60% selecting this as a favourite drink option, whereas black tea was more popular amongst older tradespeople.
Around the UK, milky tea is preferred by trades in the North East and Wales, a Cappuccino for those based in Yorkshire and the Humber and Hot Chocolate the drink of choice for Londoners and trades in the South West.
Meanwhile, tradespeople are only offered a hot drink on half of their jobs, the survey found. A further 30% said it's normal for them to be offered just tea with an additional 31% agreeing they would like to be offered more choice.
"While half of tradespeople are grateful to be offered a hot drink, it's clear they have varying tastes when it comes to the humble cuppa,'' said Mike Fairman, CEO of Checkatrade. "We hope our drinks map helps both tradespeople and homeowners alike when the kettle is next put on." 
Checkatrade revealed the varied tastes of tradespeople up and down the country with a new map, pictured above.