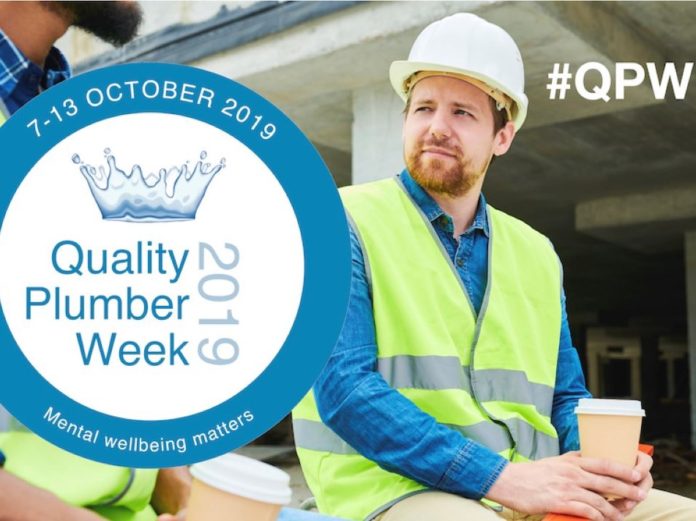 Quality Plumber Week 2019 has commenced, with the aim to raise awareness of what poor mental health is.
Organiser APHC noted that one in six UK workers struggle with mental health problems, which equates to around 350,000 construction workers.
The Samaritans are officially supporting the week with their Real People, Real Stories campaign which shares real stories from men who have overcome tough times.
APHC has also interviewed Lee Woodgate, a 33-year-old self-employed Plumbing & Heating Engineer who gave an open and honest account of his experience of dealing with mental health issues.
Plumber and friend of Ideal Standard, Lauren Winter will also be sharing her own experience and providing advice via a blog post.
Throughout this week, APHC will be using social media to raise awareness of what the signs of poor mental health are and to direct plumbers to where they can obtain advice and information. APHC will be using the hashtag #QPW19 on Twitter, Facebook and LinkedIn.
APHC CEO John Thompson said: "The plumbing and heating industry is predominately made up of sole traders for whom the challenges around mental wellbeing can be more significant as they face a wealth of pressure throughout the working day, which for many, continues into the evening as this is the only time they have to deal with the administration aspect of running a company. Dealing with these work pressures inevitably means their work-life balance isn't always in check which then becomes an additional pressure."
APHC encouraged installers and manufacturers to get involved with Quality Plumber Week by joining the conversation at #QPW19 on Twitter, Facebook and LinkedIn and by using the QPW19 logo as their social media profile image. The logo can be downloaded from www.QualityPlumberWeek.co.uk.
APHC will also be hosting a Twitter conversation on World Mental Health Day, 10 October, using #QPW19 to encourage plumbers to ask questions and gain live advice.
HPM will be running a series of articles online this week to tackle some important questions relating to mental health.