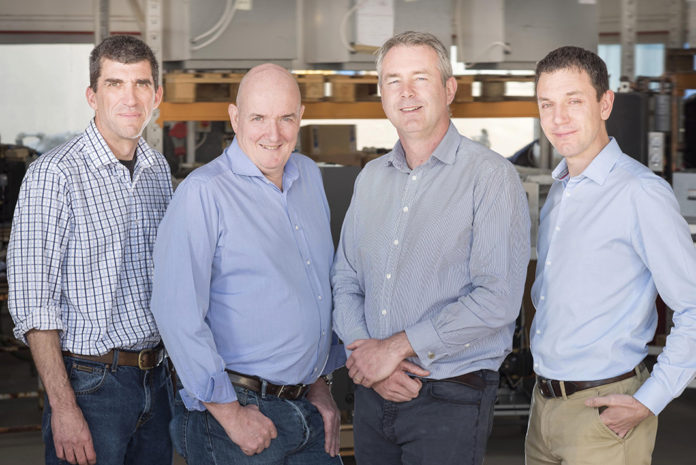 With recent announcements from the Committee for Climate Change and the Government calling for significantly higher numbers of heat pump installations, the Kensa Group has announced changes to its senior management team and additional business services as it looks to celebrate its 20th anniversary with continued rapid growth.
James Standley has been promoted to managing director of Kensa Heat Pumps, the UK's only ground source heat pump manufacturer, whilst Dr Matthew Trewhella will step up to the same role for Kensa Contracting, the specialist in-house installation business, which celebrated the launch of a dedicated website earlier in the year.
Commenting on the changes, Kensa Group CEO Simon Lomax says: "Having spent 20 years promoting the benefits of ground source heat pumps, it is encouraging that many stakeholders finally recognise their strategic importance. Regulation is now replacing subsidy as the main market driver and the Kensa Group is remarkably well-placed to take advantage. James and Matthew have been heavily involved in the creation of two exceptional businesses and their plans for the future will ensure Kensa continues to flourish."
Alongside the management changes, Kensa has announced the launch of a new Group business, Kensa Utilities, which will operate alongside a number of partners to fund, own and maintain heat pump assets. In addition, the Group is developing alternative business models, including a 'heat as a service' offer, designed to reduce upfront capital costs.
According to Lomax: "The emergence of heat storage products, dynamic electricity tariffs, smart controls, demand aggregation and battery storage will revolutionise the heat market and strengthen the appeal of our technology. Ground source heat pumps are far more suited to maximise the benefit of demand side response initiatives and benefit from far lower ownership costs. The challenge has been to reduce their upfront cost to mirror air source heat pump pricing and we can now deliver on that ambition. As a result, the market can benefit from a more efficient, reliable, durable and unobtrusive product."
James Standley, managing director of Kensa Heat Pumps, says: "From 1999 Kensa Heat Pumps has been influential in the UK's steady transition to a low carbon economy, the Group's structure is now poised to help the country fulfil its sustainability commitments and enter a new phase of clean energy generation. I am proud to be at the helm of the manufacturing business and look forward to our next chapter of growth as a Group."
Matthew Trewhella, managing director of Kensa Contracting, says: "I joined Kensa in the early stages of setting up the Contracting business and it is been very satisfying seeing it grow from an idea to a fully-fledged business in its own right. I am immensely honoured to be named as managing director of Kensa Contracting and the management team and I am excited to be asked to take on the challenge of growing the business to the next level."