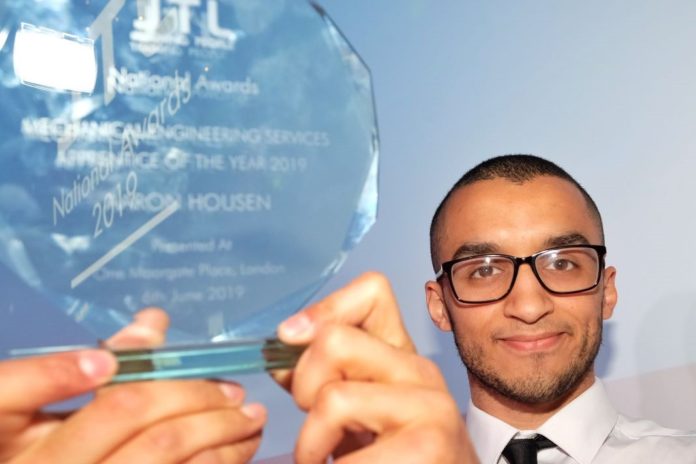 Aaron Housen from Hayes has been named JTL's National MES Apprentice of the Year – covering plumbing and heating skills.
A ceremony was held last week at One Moorgate Place in London, where he was presented with an engraved glass award and a toolkit from Monument Tools valued at in excess of £500.
Candidates, all in the final year of their apprenticeships, are nominated from each of JTL's seven regions across England and Wales based on their outstanding performances throughout the four years of their training.
Aaron, who works for Dunamis Heating and Mechanical Services in Hayes in Middlesex, said: "Despite winning the regional award, I didn't really believe I had a chance of taking the national award as well. It's been really rewarding working my way through an apprenticeship. To end up with an award as well has hugely exceeded my expectations. It was an amazing day and it was great to be able to share it with my family and especially my new son Eli – who is just five weeks old."
JTL training officer Mark Brown added: "Aaron has passed all his exams to the highest level completing his NVQ Level 3 and his gas safe training. In addition, he has been an exemplary attendee at Amersham and Wycombe College over the four years of his apprenticeship.
"He works in large domestic properties with wealthy and often testing clients, but he always conducts himself professionally. He now does surveys and quotes for the business and has begun training another apprentice. He always seems to have time, however busy the business is, which is a skill in itself.
"He works to the highest standards I've seen in an apprentice in my fourteen years in this role as a training officer."
This year, more than 1,200 learners have completed apprenticeships with JTL and more than 2,650 have started courses.