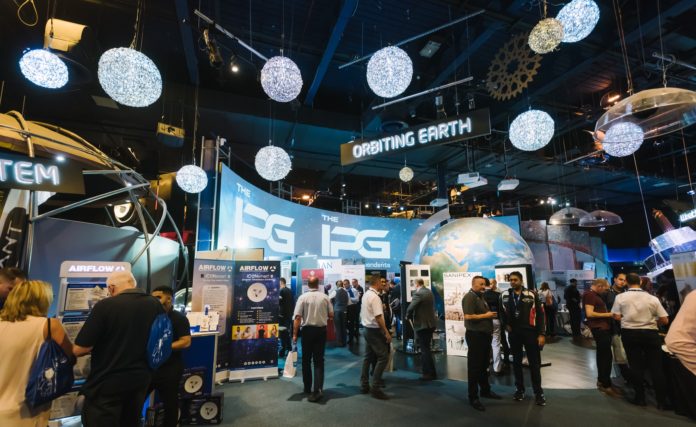 Last week the IPG held an "out of this world" event as it put on their 2019 space-themed conference at The National Space Centre in Leicester. The event brought together its suppliers, members, and leading industry experts.
The IPG is a membership group for plumbing, heating and bathroom specialists, which now has over 200 locations nationwide and has recently celebrated the launch of two new IPG branded flagship stores across the UK.
Lee Wilcox, CEO of On The Tools, delighted attendees with a talk on the construction industry before sharing one of On The Tools' funniest viral videos. Celebrity interior designer, Linda Barker, also delivered an insightful talk on upcoming trends in bathroom designs.
Lee Wilcox commented: "I am honoured to be working with The IPG and for the opportunity to share the story of On The Tools with their members. Being involved in the industry myself, I am aware of the obstacles and challenges independent merchants can face, especially in today's world.
"The IPG's conference was the ideal occasion to share my knowledge and reveal some tricks of the trade, and to bring people together. I am delighted to have been a keynote speaker for The IPG this September."
The evening event kicked off with a poignant talk from Kate McCann, mother of missing Madeleine, and Ross Miller, of the Missing People charity, who were there to talk about #FindEveryChild, and to thank IPG members for all their incredible fundraising efforts this year, which included select members taking part in a pursuit to 'Orbit the Moon', completing the 54-mile London to Brighton bike ride, as well as displaying collection tins in their stores and showrooms all year round. There was also silent auction on the night, which helped to raise a further £4,702 for the charity.
The conference was followed by drinks and a gala dinner held at the Leicester Marriot Hotel, where keynote speaker and mind reader David Meade compèred the evening and conducted the Member Award Ceremony, which celebrated some of the IPG's deserving members.