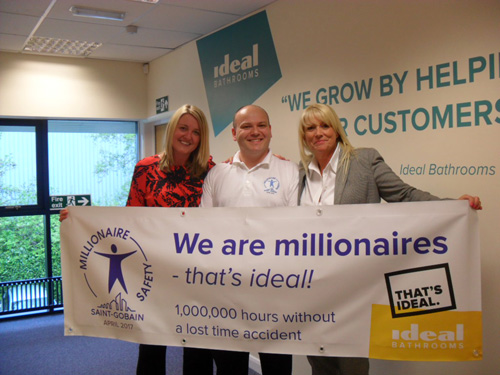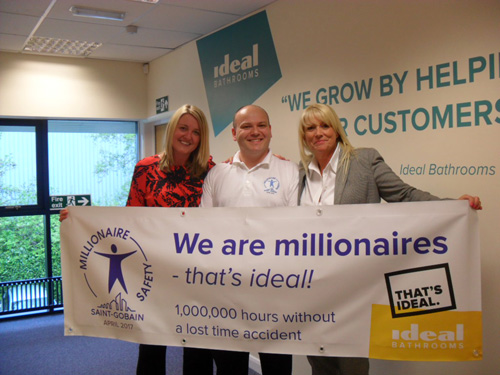 A million is a big number in anyone's language. In the world of health and safety (H&S), joining the millionaires means one million working hours (or five years) without a single lost hours accident anywhere within the workforce. And that is what Ideal Bathrooms has achieved to become a member of their parent company St. Gobain's Millionaires Club.
"This is a very prestigious achievement" says Ideal Bathrooms operations director, Kim Kirby-Earnshaw "It's even more impressive that this is Ideal Bathrooms' second successive time we have achieved this and our working environment is a challenging one for H&S issues as the majority of our activity involves physical handling procedures."
The millionaires 'club' is exclusively for the super-safe with only 259 businesses throughout the world who qualify and just 20 in the UK.
Ideal Bathrooms has a culture throughout the company for putting the safety of staff before anything else. There is an in-house H&S committee which continually monitors and makes improvements wherever possible and staff are encouraged to share their views on any potential safety hazards, before they become an issue, under the Safety at Work (SAW) programme.
The achievement was celebrated throughout the company with a buffet lunch for all staff and on the road staff receiving gift cards.
Kim added: "We continually strive to review our H&S practices putting staff at the forefront of considerations. Making sure staff are happy and healthy reaps its rewards, because they are the ones who look after your business and help you to succeed."