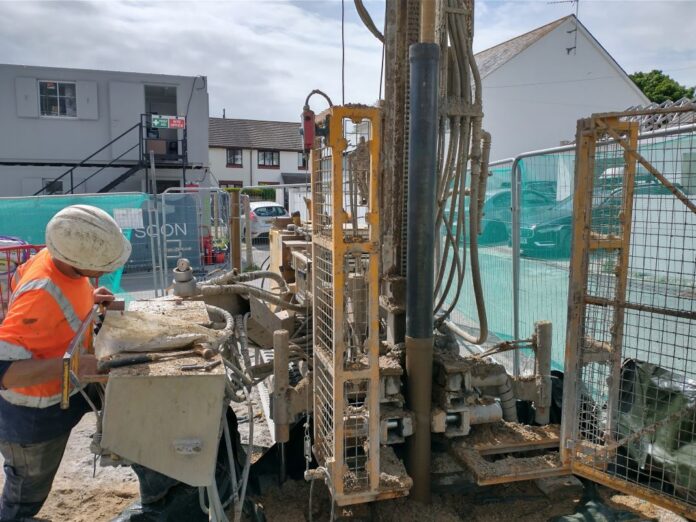 Heat the Streets, Kensa Utilities' ERDF-funded sustainable heating project, has broken ground at two new construction sites in Cornwall, the company announced.
Work has begun on Heat the Streets low carbon heating installations in Carlyon Bay and Harlyn Bay. Drilling has started for boreholes that will form shared loop ground arrays to be connected to Kensa ground source heat pumps. The heat pumps will supply the homeowners with 100% of their heat and hot water all year round.
Kensa's Shared Ground Loop Arrays are an ultra-low temperature heat network used with ground source heat pumps. In a similar setup to a traditional gas framework, a series of boreholes are linked to create a shared ground loop array that provides heat to multiple properties. Kensa Utilities will retain ownership of the ground array, charging a fixed annual fee to households for its use.
Due to Kensa Utilities' ERDF financing model, it has been able to install heat pumps and the associated infrastructure for less than the cost of an air source heat pump. Consequently, forward-thinking developers can offer a more attractive sustainable heating system while reducing construction costs and reducing carbon emissions.
The company said drilling of these boreholes marks a significant step forward in the Heat the Streets project which will also see installation of split-ownership, ground source heat pumps retrofitted into private properties in the off-gas village of Stithians, Cornwall and social housing estates around the county.
Lisa Treseder, Kensa Utilities senior project manager, said: "To achieve net zero by 2050, we need to transform the way people heat their homes. This Project demonstrates how we can decarbonise home heating in a way that creates great value for money while minimising capital investments. We also need to lower the barrier of upfront costs to encourage the adoption of ground source heat pumps."