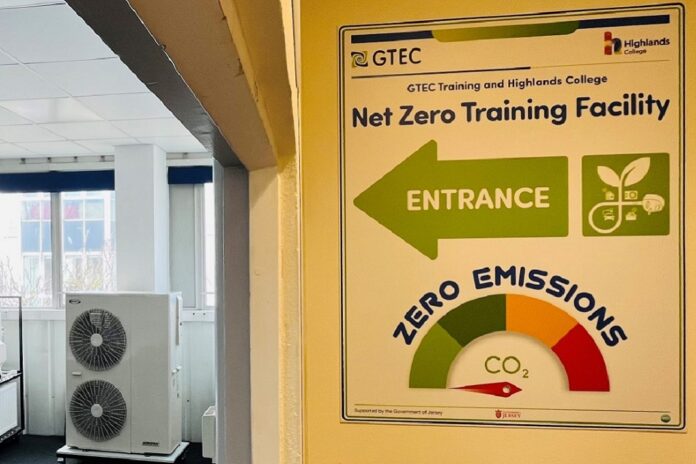 Highlands College has launched a net zero training facility developed in partnership with GTEC.
Funded through Jersey government's Retrain initiative, the facility provides the resources required to train and assess candidates in the installation of a range of technologies, including air source heat pumps (ASHPs).
Prior to the opening of this provision, operatives could only gain the required qualifications by travelling off-island. According to a statement, on-island training and assessment enables more local operatives to upskill by reducing the barriers to accessing the training required to take advantage of the opportunities presented by Jersey's transition away from gas and oil.
These courses, as well as others that are in the development phase, also align with the government initiative to develop The Contractor Quality Scheme (CQS), GTEC has said. CQS is a Jersey-specific quality assurance scheme to approve contractors wishing to carry out government-funded work as part of the new low carbon heating incentive.
Tony Tyrer, assistant principal – planning and skills at Highlands College, said: "Highlands College plays a crucial role in the training and upskilling of Islanders, it is therefore imperative that as a college we are responsive to the needs of the island.
"The government plans to bring into force legislation that updates current building regulations and sets increased energy efficiency and carbon emission standards, and prohibits new fossil fuel boilers being installed in any property after 1 January 2026. We need to be training the workforce of the future now."
Griff Thomas, managing director of GTEC Training, added: "We have been delighted to help setup and deliver training in partnership with Highlands College, there are some ambitious targets in Jersey for carbon reduction and this has to be underpinned by ensuring that installers have access to the high quality training that they need, without having to leave the island."
At the official launch on 8 March, Griff introduced the Heatly app, which has been designed and marketed to make heat pump specification and installation 'easier' by 'digitising and simplifying' processes such as heat loss calculations and site survey. Heatly, which is currently under-development, is being made available to students at Highlands College.
Jo Terry-Marchant, principal of Highlands College, said: "We are in continuous consultation with employers, industry leads, partners and the government of Jersey, not just in construction but across all curriculum areas. This collaborative approach enables us to ensure that our courses offer the latest in best practice and are future ready. Our mission is to transform lives through lifelong learning."