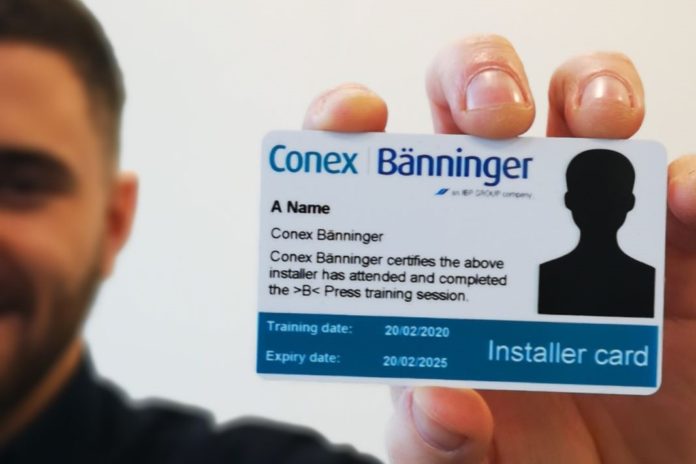 Conex Bänninger has increased its support for plumbing and heating installers by introducing a certified installer scheme.
The move was in response to an increasing demand for those employed on construction sites to provide evidence of relevant training, a company statement said.
The scheme is for installers using >B< Press copper fittings (12 to 54mm), which are suitable for hot and cold water applications including drinking water.
To qualify as a Certified Installer, the individual must have completed >B< Press training, either on-site or at the manufacturer's modern training facility at its West Midlands headquarters.
The successful candidate will be awarded with a personalised Installer Card showing the date of completed training and an expiry date, along with a photo of the card carrier.
The Installer card is valid for five years, after which the tradesperson must attend for a training top-up.
Dan Wild, Conex Bänninger business unit director for the UK and Ireland, said: "Construction sites across the UK are increasingly requesting that the trades working there have received appropriate training in the products they are installing. This particularly applies to those operating in and around the London area.
"With the flame-free press method continuing to take over from traditional brazing, the demand for competency in this modern technology is growing rapidly.
"By investing in this scheme, we are providing installers with an easy way to show they have the relevant knowledge and skills. The scheme has been welcomed by installers, as it gives them an advantage over others when competing for work.
"From the manufacturer's viewpoint, we are helping raise skill levels within the industry that we supply while ensuring our products are being properly installed. It's a win-win for everyone."
>B< Press training takes an hour, during which installers learn all about the fittings, their application and how to correctly install them. It also covers using the right jaws with the right press tool for the correct fitting.
>B< Press has the benefit of a 3-point press, providing a secure, long-lasting joint, along with a 'leak before press' indicator so that any incorrectly or unpressed fittings can be easily identified, the company added.