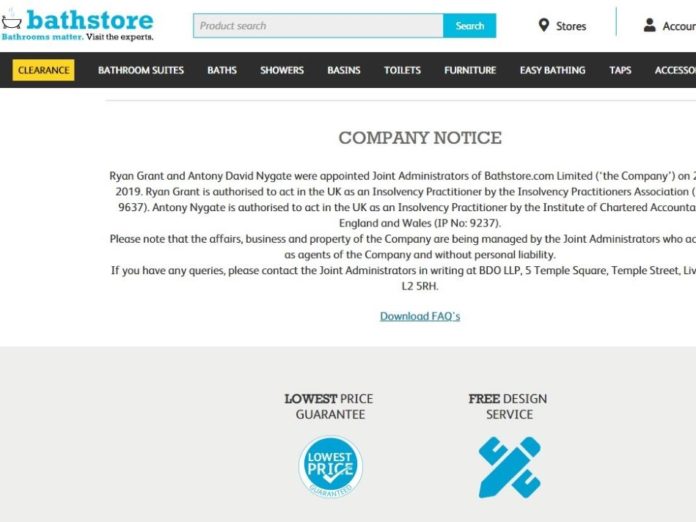 Bathstore.com Limited, which operates more than one hundred stores nationwide, has gone into administration.
The British Institute of Kitchen, Bedroom & Bathroom Installation (BiKBBI) has confirmed it is liaising with both Bathstore and its insolvency practitioner.
A BiKBBI statement added: "For our installer members, our strategy is two-fold. Firstly, it's to act as a conduit for information, helping them to navigate the complicated process of recompense for monies owed. We have communicated with members on six occasions since the news first broke.
"We are sad to report that we have received over 100 updates from members, representing around a quarter of those potentially affected, who are collectively owed in excess of £1m by Bathstore for completed installation work. We expect this number to rise dramatically over the coming days as our members continue to update us with their stake.
"Of those members who have updated us so far, the highest individual creditor is owed over £90,000, with the majority being owed between £2,500 and £10,000. Clearly this is a life changing situation for many."
"Secondly, we will support our members by connecting them with new opportunities. The threat of losing money is one thing, but this situation will affect their future order-book, with installers often being booked for 8-12 weeks in advance. We are working with some great retailers and strategic partners and thankfully the general UK skills shortage will prove to be an asset in this scenario. Great installers are in demand and we will ensure that our members are connected with those businesses and individuals seeking a professional installation service."
Ryan Kevin Grant and Antony David Nygate of BDO LLP were appointed joint administrators for Bathstore last week. BIKBBI has requested meetings with BDO and also lobbied government about the issue.