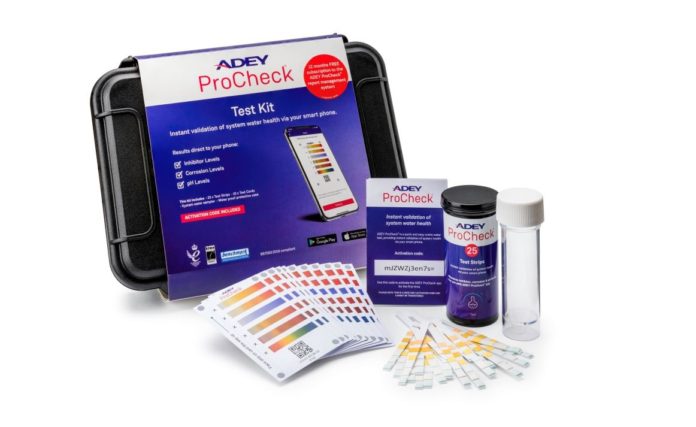 Adey has launched its new ProCheck digital water test kit, which will be available in merchants from September.
The ProCheck kit, costing around £100, uses a smart system through either Android or IOS to provide a live water test on site.
A test kit will be provided alongside the App, with 25 test strips and a gradient card. The App then compares colours on the card to display a report of corrosion, inhibitor and PH levels.
Users can also view their results on the ProCheck Portal, with a complimentary 12 months' access upon purchasing the kit.
Claire Miller, marketing director at Adey, said during a live web launch: "Our mission is to protect the nation's heating systems." High water quality can extend the life of a heating system by eight years, she added.
Compliant with BS 7593:2019, the App provides an instantaneous result, whereas lab tests can cost £30-£40 and take 24 hours to return, Adey sales director Tom Hood pointed out.
"With ProCheck we have the first universal and digital water test," he said. "This is a fantastic way for companies to manage engineer compliance."
Adey innovation director Helen Isherwood added: "We have been able to do something that is comparable with a lab. What really matters is we've created something heating engineers can use to add value."
The Cheltenham-based supplier will continue to offer lab testing alongside the new ProCheck product.