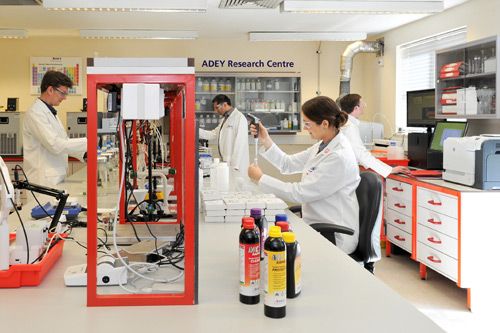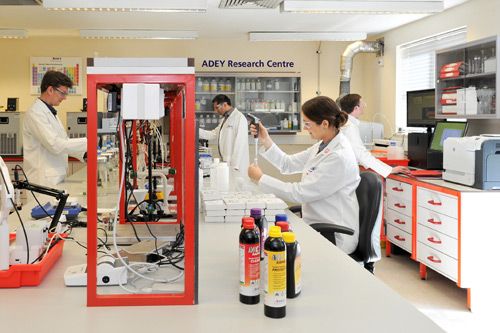 ADEY Professional Heating Solutions has broken new ground at its state-of-the-art research centre.
The R&D facility in Kent is the first and only laboratory in the HVAC sector to be accredited by the United Kingdom Accreditation Service (UKAS) for testing central heating system water and water treatment products to the highest industry standards.
ADEY's laboratory at Kent Science Park, Sittingbourne, has been accredited by UKAS against the quality standard ISO17025 for its testing services, reinforcing the water treatment pioneers' position as industry leaders. The accreditation follows the lab's BuildCert approval to test products for the Chemical Inhibitor Approval Scheme (CIAS), which was granted last year after just six months of operation.
The scope of the UKAS accreditation covers not only chemical analysis and interpretation of the quality of central heating system water, but also includes corrosion inhibitor performance testing against BuildCert CIAS procedure. Accreditation was granted following a stringent audit of ADEY's quality management systems, equipment and laboratory operating procedures.
Mo Jassal, ADEY's chemical technical manager, said: "As the only lab in our industry to be UKAS accredited, it underpins our technical competence and integrity of both our water testing service and inhibitor performance testing which benefits heating system quality.
"This sets us apart, giving confidence to our customers that we are leading the way in raising quality standards. We're working to a level that is unprecedented in the industry and are extremely proud to be the first to do so.
"To have followed our BuildCert accreditation with UKAS accreditation in less than two years underlines our commitment and investment to pushing the bar in terms of quality. We're continuing to expand and invest in the team and the lab and the level of resource we now have is allowing us to maintain the highest standards."
ADEY's range of premium MC+ chemicals has undergone stringent testing well in excess of the BuildCert CIAS industry standard. The 500ml formulations go much further than any other products on the market, treating 125 litres or systems up to 15 single panel radiators. The advanced chemicals work in tandem with the company's award winning MagnaClean filters and MagnaCleanse flushing process.
ADEY's water testing service employs a team of highly qualified analytical chemists and the on-line service provides test results with a full analytical report, detailing system problems and recommended solutions. The results are returned within just 48 hours via a secure, user-friendly, online portal.