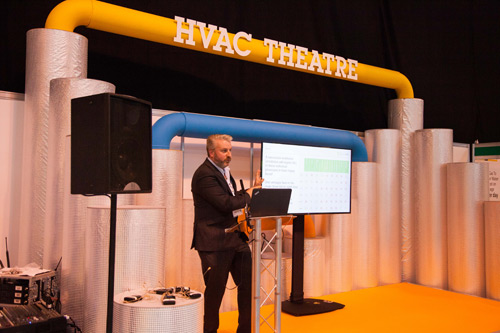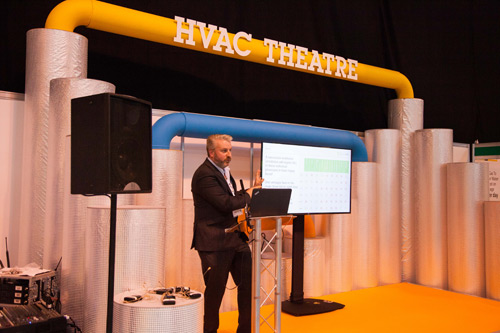 We are now just a few days away from the opening of HVAC 2017, sponsored by FläktGroup, which takes place over the course of three days as part of UK Construction Week.
Backed by BESA, FETA, CORGI, HEVAC, GSHPA and BCAS, HVAC 2017 is the UK's must-attend event dedicated to heating, ventilation and air conditioning and is tailored to meet the requirements of engineers, contractors, installers, architects and specifiers within the building engineering sector.
The show is free to attend, and – if you haven't registered yet, here are just a few of the highlights on offer:
Paint it hot: Experience the world's first 24V electric paint on heating system from Ecovolt that turns gypsum plasterboard walls into effective radiators.
Celebrity speakers: Expert opinion from George Clarke, Steph McGovern and Tom Dyckhoff.
HVAC Hub sponsored by Denco Happel: A comprehensive programme of seminars focused on complex heating systems, energy efficiency, living buildings and indoor air quality. Speakers include Richard Blackburn of Bosch Thermotechnology and Brian Worrall of Certas Energy.
Plenty of fun: Enjoy a Dodgeball Tournament, Beer & Ale Festival and Casino Night, all on site.
Plus…. free CDP safety workshops, more UK-first product launches than any other show, world premiere of Tufeco Modular Homes, and lots more.
HVAC 2017 is one of nine shows taking place as part of UK Construction Week, the UK's largest construction trade event.
Taking place on October 10-12, 2017 at Birmingham NEC, UK Construction Week will unite over 650 exhibitors with an audience of over 30,000 trade visitors.
For free registration, visit: www.hvaclive.co.uk/register.