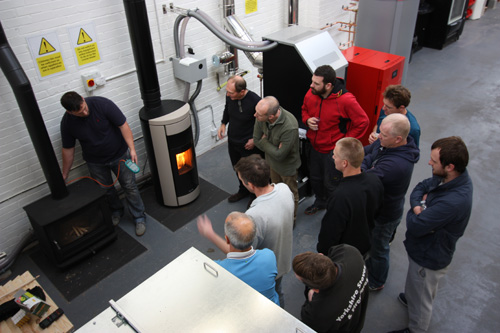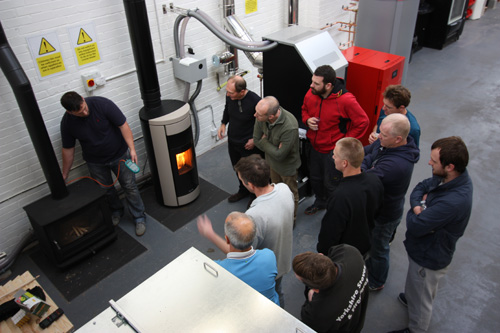 With the rising popularity of wood burning stoves, the heat is on for installers and sweeps to brush up on their training this summer, says HETAS – the only specialist organisation approving biomass and solid fuel heating appliances, fuels and services.
Mike Harvey, training and technical support manager said: "Whether you're a gas installer, a plumbing and heating engineer or a maintenance technician, it is probable that you already understand the principles and processes of installations, along with an awareness of the corresponding regulations.
"It's a great idea to use the warmer months to expand your skill knowledge on the latest combustion appliances, technologies, products and legislation.
"With three new HETAS training centres opening this year in Ireland, Milton Keynes and Liverpool, geographically located to complement existing HETAS training centres, it is now even easier for anyone who has relevant experience within the industry, such as retailers, chimney sweeps, plumbers and builders, to transfer their skills."
Not all courses give direct access to HETAS Registration – but many industry professionals want to understand basic principles in their job roles.
Mike said: "With no prior experience needed, the H001 foundation course is for anyone interested in a career working with solid fuel, wood and biomass technology.
"Demonstrations are provided on the basic operating principles of solid fuel appliances. Although, it isn't all about beginners, we also offer the H003 Dry Appliance Installer course which enables already experienced professionals to join the competent person registration scheme and become a HETAS Registered Installer."
After delivering training and assessment services to the utilities industries for more than 20 years, at the beginning of 2018, Gastec Training & Assessment Centre in Milton Keynes added HETAS courses to its portfolio including the H001 and H003.
Steve Jenkins, managing director of training services, said: "The increasing popularity of wood-burning stoves has increased demand for solid fuel tradespeople. For us, the H003 is getting a lot of take-up from experienced individuals, usually with a gas or oil background, who are looking to diversify their knowledge and skills to keep up with this trend."
The Approved Retailer course ensures that at least one HETAS trained member of staff is in the showroom at any given time.
"As the consumer journey often starts with the retailer it is important that showroom teams give appropriate advice to consumers", said Mike. "This includes the selection of stoves that are suitable for the customer's heating and property needs, as well as making sure the customer understands how to operate and maintain their stove, including what fuel to burn."
John Doyle, managing director at John J Doyle Training Centre in Belfast, which is purpose built to facilitate HETAS courses, has noted positive feedback on the retailer course.
"Attendees agree the course provides clarity into every aspect a customer should consider when purchasing an appliance – from aesthetics to fuel selection and installation requirements," he said.
"In a nutshell, the course helps retailers advise customers to choose the right products and highlights the importance of using a HETAS Registered Installer to ensure you conform to Irish building regulations."
To maintain HETAS registration, installers are required to refresh their training every five years to ensure they are abreast of the latest regulations and practices. This is mandatory for all Competent Person Schemes in the combustion appliance sector.
To find your nearest training centre, visit: www.hetas.co.uk/professionals/training-centres/